Femdom Wife Game – Zoe Free Download Latest Version
Femdom Wife Game – Zoe Download Walkthrough + Inc Patch Mod Apk For PC Windows, Mac, Android – Delivers short stories about your vanilla partner turning dominant.
Developer: FemdomWifeGame – Patreon
Censored: No
Version: 1.61
OS: Windows, Mac, Linux
Language: English
Genre: 3D GAME, MALE PROTAGONIST, ANIMATED,ORAL SEX, FEMALE DOMINATION,CHEATING,MULTIPLE ENDINGS,VAGINAL SEX,BDSM,CHASTITY,NTR
Overview
---
Femdom Wife Game delivers short stories about your vanilla partner turning dominant.
Taking place in a 3D realtime and fully animated game, this femdom game transcribes erotic novelas in its own way. The game has a strong focus on femdom content, such as pussy worship, cuckolding, chastity, foot fetish, etc.
This is Zoe version, it includes:
Chastity
Cum eating
Pegging (avoidable)
Foot worship
Pussy worship
Feminization (avoidable)
Cuckolding (avoidable, can be disabled in the settings)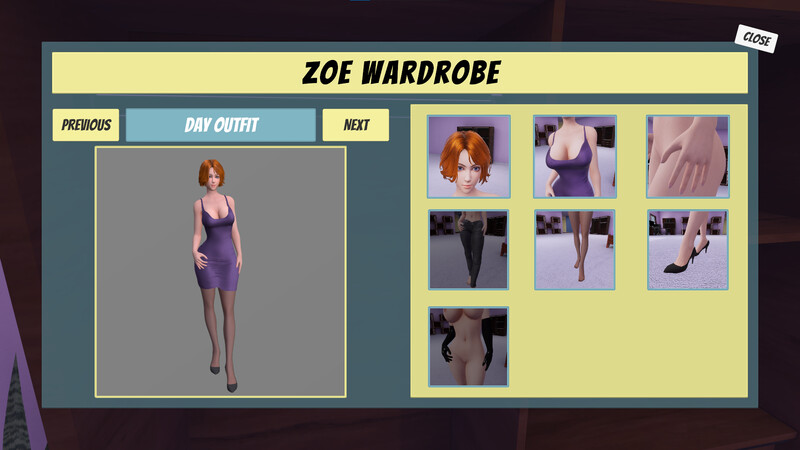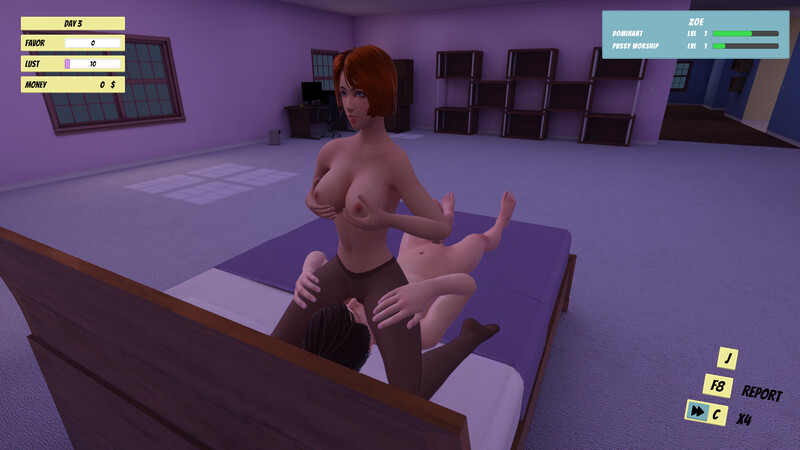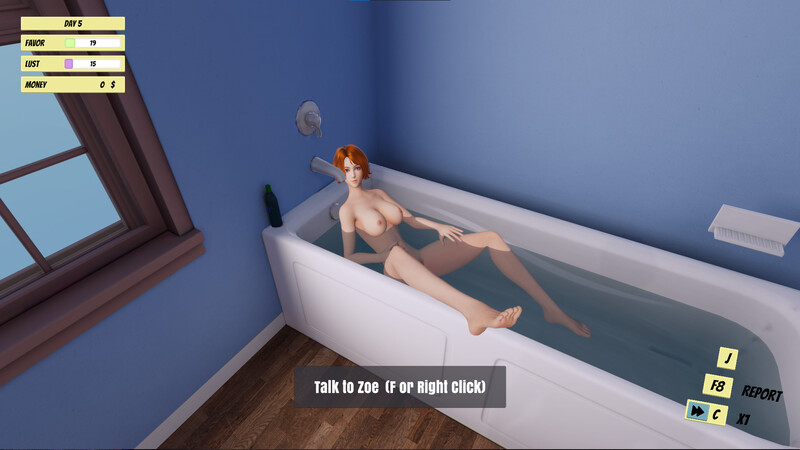 v1.6 & 1.61
– Added a new cuckold event
– The game now has a "post-wedding" part. It's pretty barren, but it's a start!
– Added very three short pussy licking events in the post-wedding part.
– You can now press "space bar" during events to keep the animation looping
– Added a "key bindings" screen
– Slightly increased the bull wrist size during scene scenes
– Slightly improved Zoe expression during sex scenes
– Increased the odds for a Serious Talk to occur by 10%
– Improved Zoe hands movement during the new facesitting animations (wedding)
– Fixed the bathroom wall being too far away from the bathtube.
– Fix a typo during one of the restaurant event (now -> know)
– Technical, change the memory bucket size to 8mb to prevent a crash issue on some devices
– Fixed some repeatable events not being accessible (notably "a lovable face")
– Have "add willpower" properly mapped on ctrl+Z for QWERTY instead of ctrl+W
– Slightly improved the house by adding details between the rooms.
– Fix the body colors turning light pink during "First time" when the characters are on the floor.
v1.59f8
– Fixed Zoe being invisible during the wedding scene for older save files
v1.59f7
– Added musics for various cutscenes
– Added three new wedding items at the shop
– Added four small narrative events, the events are unlocked by buying the items
– Once the four events have been played, added a speciel "wedding" event
=> Currently contains a facesitting animation
=> The wedding main dialogue depends of your progression for each fetish
=> Next versions will give more impact to the wedding aftermath
– Slightly improved Zoe's feet movement on the bed facesitting and couch cunni animations
v1.58f2
– Added a first person mode, you can enable it in the settings or by pressing the P key.
– Added a repeatable event when asking for a quickie to Zoe when she is on the bed.
– Added a repeatable event when asking for a quickie to Zoe when she is on the couch.
– Added a wedding ring that you can buy at the laptop. It doesn't do anything yet but it will be linked to extra events afterward.
– Improved the game pacing by prioritizing the fetish intros.
v1.57f1
– Added a new event "Fuck me": Zoe will ride a dildo over the MC's chastity cage.
– Added MC comments in the morning to deepen the immersion (for old saves, the comments will be out of place).
– Slightly modified the dialogue on the repeatable event when Zoe asks you to lick her to sleep.
– Added a new small event on the computer, Zoe has left a tab opened.
– Fixed being able to ask for sex to Zoe after the cum eating intro.
– Fixed Zoe phone being present in some cutscenes.
– Added the option of having daily outfits in Zoe wardobes. She will select one randomly at the beginning of each day!
– Added new props in the kitchen, in the hallway and in the bathroom!
– Fixed Zoe spotting you on the computer when she was out.
– Fixed the MC having strange lines on his body when seen from afar.
– Fixed Zoe having her eyes going crazy during the facesitting event.
– Fixed the MC socks clipping in some events.
– Fixed Zoe asking you to clean her during a foot event when the cum eating path hasn't started yet.
– Fixed Zoe asking you to watch T.V. in the morning after a cunni scene.
– Fixed dialogue inputs being processed while filling a feedback.
– Fixed Zoe thinking the MC is wearing girly clothes after you removed them.
– Fixed the MC's panties being displayed during pegging events.
– Fixed Zoe not looking during the first serious talk about cuckolding.
– Stabilized the save files a bit. New events won't be saved until the beginning of the next stage (morning & evening), it caused too many issues.
– Fixed a few typos.
v1.55f2
– Added an event where Zoe asks the MC to clean the house
(it's a repetitive event that will be used to include more content later on)
(it may end up with a pussy licking variation if you are naked or if the pussy worship stats is high enough)
– Added an event where Zoe will ask the MC to be naked in the evening
– The pink panties will now display correctly, including when the MC has an erection.
– When forcing an event, the quest log will now display what should be done to trigger the event.
– Added more consistency to dialogues when the MC is wearing girly clothes
– Fixed Zoe eyes, they shouldn't squint anymore
– Reduced the difficulty of the licking minigames so they feel more like a choice
– Added a "Serious talk" event after the first cuckolding event.
(On older save files, the event may not play)
– Zoe won't react to the MC wearing girl clothes when the MC is wearing the work clothes.
– Fixed Zoe missing in some scenes
– Fixed the MC being stuck during the bull scenes (instead of being able to move around)
How To Install Femdom Wife Game – Zoe
---
Extract
Play the game
Femdom Wife Game – Zoe Free Download
---