Sexbot Free Download Latest Version
Sexbot Download Walkthrough + Inc Patch Mod Apk For PC Windows, Mac, Android – Play through this science fiction game as a dateless nerd looking for love in all the wrong places.
Developer: LlamaMann Games Patreon
Censored: No
Version: 0.9.9
OS: Windows, Linux, Mac
Language: English
Genre: 3DCG, Anal Sex, Ahegao, Handjob, Male Protagonist, Big Tits, Adventure, Sci-fi, Multiple Penetration, Oral Sex, Sex Toys, Teasing, Vaginal Sex, Voyeurism
Overview
---
Can't find a date for the prom? Then order AmaZone's Alexa today! Our newest version of Alexa is a super sexy humanoid robot ready to follow your every command!
*AmaZone is not responsible for Alexa AI sentience or robo-hostility, follow user manual and set up to insure obedience in your sexy robot companion… or don't and see what happens…
Play through this science fiction game as a dateless nerd looking for love in all the wrong places. Program your new Sexbot to follow your commands or think on her own. Just be careful Emily doesn't find out what you're up to! With Alexa's high-tech 3D bio printer, anything is possible! From new outfits to toys to… well anything!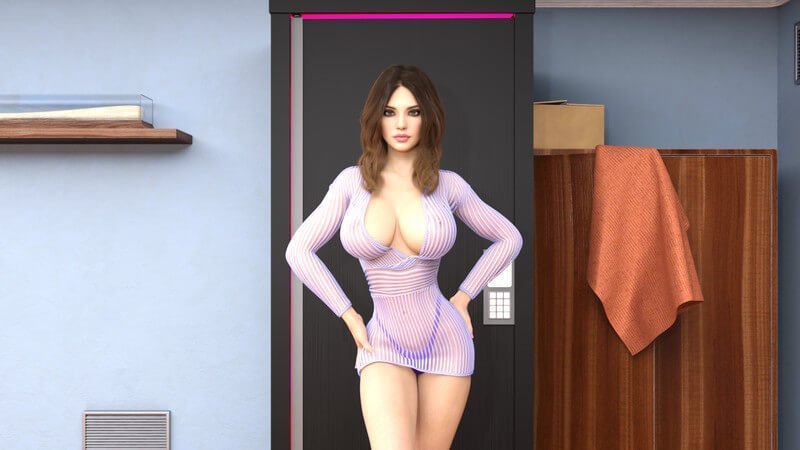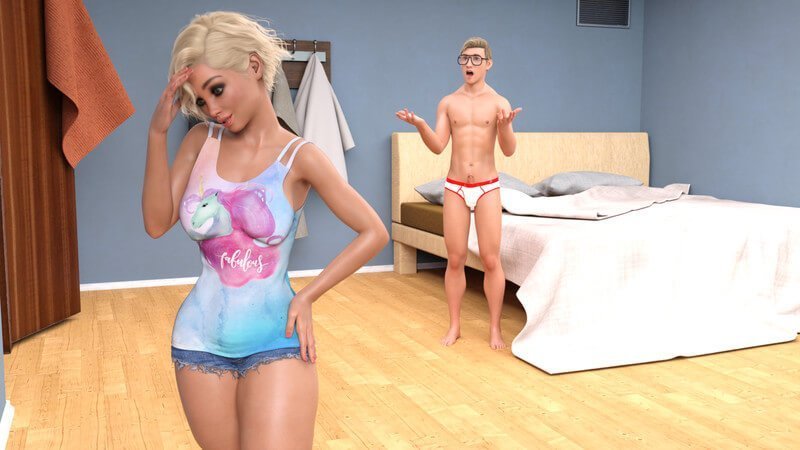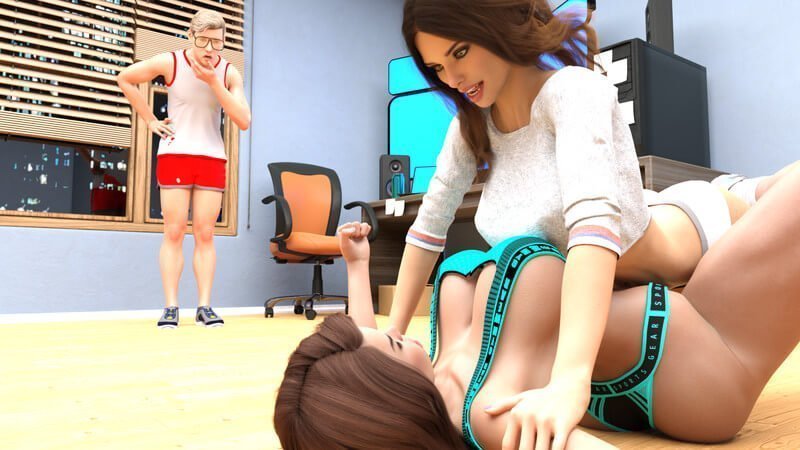 v0.9.9
NOTE:
***You will get an error when loading any previous save, BUT THAT IS OK!!!***
QOL:
– Total Music Overhaul (enjoy!)
– new splash screen CAREFUL NOT TO SKIP IT!
– main menu improvements
– new visual indicator of timeline corruption before each jump
– added hints to 'seen' scenes in gallery
– fixed hints for multi level events
– added cum squirt to Sam's tentacle scene
– remastered Emily treadmill
– remastered Alexa oral dive right in
– remastered Alexa fist consider your options
– animated Ashley intro walk
– day 4 restructure – split existing scenes into zetas
– height issue with Daphne prom images
– reorganize double Alexa night visit and dom visit (Alexa sub and dom night visits require their respective zeta, and for the current loop sub/dom stat to be higher)
– revert the lesbian zeta requirement for Emily on day 4 (no longer required), still only need 3 les point for prom
– fixed baileys gym scene bug
– random image fixes
CONTENT:
Day 1 – Emily laundry 4 + gallery improvements for this scene
Day 2 – Jessica detention 2
Day 2 – Mai gym
Day 4 – Bailey date
Day 5 – Ashley hot tub
Day 5 – Mai hot tub
Day 5 – Mai night visit
Day 6 – Alexa dom 2 action
Day 6 – Alexa sub 2 action
Day 6 – Meiko action
Day 6 – Super cool secret scene (protip; when the music changes, if you dont click the timing all lines up)
Prom – Meiko
Postprom – Emily variation
Postcredit – another secret scene (also cool)
2023-03-10: Added Patch Fix for v0.9.7 if someone had problems taking bailey to the gum
v0.9.7
QOL:
– image button menus for major decision junctions, reduced number of text menus and streamlined player choices
– gallery hints now show up on hover, instead of click
– gallery image for Alexa, Emily and Sam are upgraded for affinity zeta Level 2
– Emily's lesbian prom requires 3 les points instead of 4
– Emily's day 4 red and black box scenes now require lesbian zeta level 1
– Alexa's upgrade scene triggers at sub zeta 1 and sub zeta 1, instead of sub zeta 2 and dom zeta 2
– Improved most of the characters' side images
– Stat display during prom date selection
General
– Remade Daphne, new prom images, gallery and menus (including all prom targeting animations)
– New character Mai, new gallery and menus
– New "date night" event on day 4
– Updated images of MC talking on video calls
Day 1
– New Daphne intro scene
– New Daphne stream scene
– Mai intro scene
– Mai video call
– Remastered Sam's intro (pre-time jump)
Day 2
– Alexa's independent option level 3
– Alexa's obedient option level 3
– Daphne movie night
Day 3
– Remastered the entire bunny event with new outfits, Sam and Emily paths
– Sam bunny scene level 2
– Steph gym scene (may require repeating Steph's movie to trigger)
Day 4
– Sam's dildo scene has been remastered
– Sam's dildo scene level 2
– Some remastered images for Sam's closet scene
– Ashley's shopping date
– Emily's night out date
– NTR option for Emily's date
– Sam's beer pong
Day 5
– Some remastered images for Amazonian Alexa
– Some remastered images for Emily's hot tub scene
– Emily's hot tub popsicle level 2
– Emily's night visit ending variation
– Alexa dom night visit, with two possible endings
Day 6
– Changed Emily's sweater when you ask her to her level 2 prom
– Emily lesbian path, futa prom
v0.8.0a Public Release!
Hello! And welcome to another Sexbot beta test. If you find any bugs, inconsistencies, or other things that need fixing please message me or comment it below. Old saves (0.4 and later) are supported.
*Bailey progress will be reset*
I have made improvements to the new game experience. You will see everything even if you are playing an old save.
Sexbot 0.8.0 Changelog
Moved Melvin scenes to the first loop
Lexxx scenes become available after that
Bailey progress has been reset, a new hot squad member is introduced each time you talk to her at school
Moved Daphne scenes to day 1 to fit the new structure with the Hot Squad
day 1 – New Bailey scene at school
day 1 – Steph intro at school
day 1 – Steph scene
day 1 – Ashley scene
day 1 – Jessica scene
day 1 – new laundry scene
day 2 – two new morning scenes
day 2 – two new calibration scenes
day 3 – Cyberpunk scene has been remade
day 4 – two new calibration scenes
day 5 – two new hot tub scenes
day 6 – two big new action scenes
prom – new prom sequence
post prom – new bad end option
new Ama-Zone HQ scene
2 new trophies
Since beta: some scene requirements changed, prom options presented differently, stat menu optimization, bug fixes and typos.
v0.6.1b
Changelog:
– New sequence of events for Melvin's calls and Lexxx's corruption
– Alexa's movie night split into two gallery replays
– Ashley's introduction has been moved to the first option at school
– Images added where required
– Some images remastered
Quality of life:
– In game character stats screen to show character progress in the current loop
– Overall character stats screen in the gallery to show overall character progress
– HINTS FOR MISSING SCENES IN THE GALLERY!!!
– Play can change character relationships in the gallery
– much better backwards compatibility moving forward
– in game notifications for stat changes (ie: Alexa Calibration +1)
General UI:
– scroll wheel in gallery menu
– minimal textbox to show more screen
– text outline for easy reading
– coloured character names
– new game icon
v0.5 beta
– 1 new character
– 1 new awesome gallery feature
– 1 new hidden gallery feature, with 5 hidden achievements
– 3 gym scenes relocated and remastered from 0.3
– 3 new gym scenes
– 7(+?) new scenes in regular play
– 2 Ama-Zone HQ scenes
– 1 new day 6 scene
– 1 new prom sequence
– Emily's 0.3 content reintroduced
– 2 new after prom scenes
– a butt-ton of new animations throughout
v0.45
– changed custom proper nouns to start with a capital letter
– made custom relationships at the start of a sentence start with a capital letter
– removed bailey scene requirements to have viewed Alexa ends
– added a smooth bypass to opt out of pegging in Alexa's femdom scene
– added a bypass to opt out of the after prom scene
– made Lexxx pegging scene optional
– corrected some spelling errors
v0.2
***THIS VERSION REQUIRES A NEW SAVE***
Since Beta – Spelling corrections
Character naming and relationships have been improved
Day 1 – New Sam scene with two options
Day 3 – New scene with Sam, Alexa, and Emily, with three endings
Day 4 – New scene with Alexa with two branches, and a second Alexa scene with two branches. One new Emily scene, one Sam scene, a new video call with Lexx, and a late-night scene with Emily.
All this and tons of animations!
***A new game is required***

v0.1
Day 3 story content
Three new characters are added to the story
The introduction has been reworked and expanded
11 new animations
How To Install Sexbot
---
Extract
Play the game