Corruption of Champions II Free Download Latest Version
Corruption of Champions II Download Walkthrough + Inc Patch Mod Apk For PC Windows, Mac, Android – Many portals led to Mareth, but none left it.
Developer: Savin/Salamander Studios Patreon
Censored: No
Version: 0.5.35
OS: Windows, Android
Language: English
Genre: 2DCG, Text based, Fantasy, RPG, Adventure, Female protagonist, Male protagonist, Futa/trans protagonist, Character creation, Furry, Futa/trans, Gay, Lesbian, Big tits, Rape, Transformation, Corruption, Virgin, Mobile game, Monster girl, Milf, Big Ass, Masturbation, Religion, BDSM, Ahegao, Combat, Humor, Handjob, Groping, Monster, Titfuck, Puzzle, Romance, Sex toys, Sissification, Spanking, Teasing, Tentacles, Turn based combat, Virgin, Voyeurism, Dilf, Male Domination, Female Domination, Multiple penetration, Multiple endings, Lactation, Paranormal
Overview
---
There are many, many worlds.
One, called Mareth, was perhaps the heart of them all. Cracks in the space between worlds, called portals, all seemed to lead there. Many portals led to Mareth, but none left it.
One sacrifice came from the village of Ingnam. This so-called 'Champion' was but a pawn in the village elders' long plot to extend their lives, but the Champion escaped her fate by beating back the demons' minions waiting on the other side of the portal, and set out on a one woman crusade to bring an end to the Demon menace once and for all. That was a year ago, and a world away.
You have never heard of a world called Mareth, nor a village named Ingnam. Nearly a year ago, you set off on your own, leaving your former life behind to seek your fortunes on the wild frontier – a year of traveling, exploring, fighting, and surviving alone. You've earned yourself a little coin in your travels, enough to book passage to the furthest reaches of the known world: the Frost Marches.​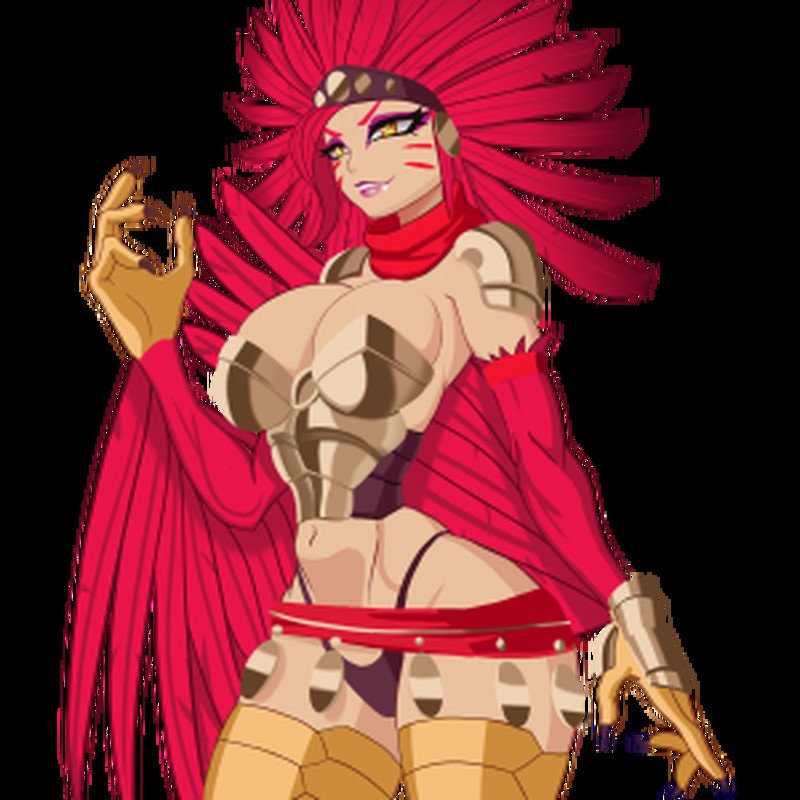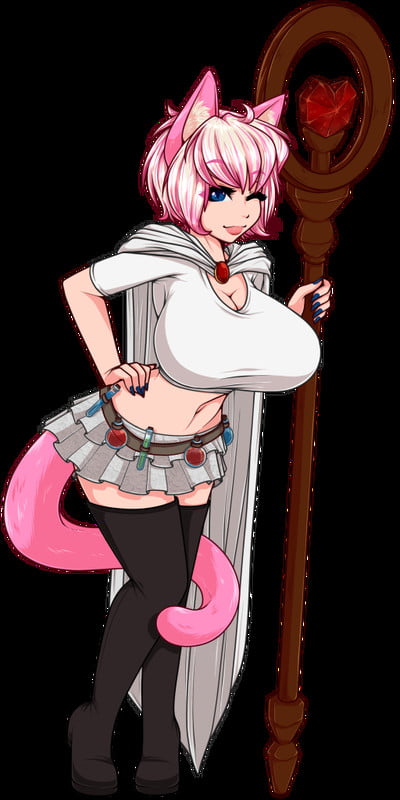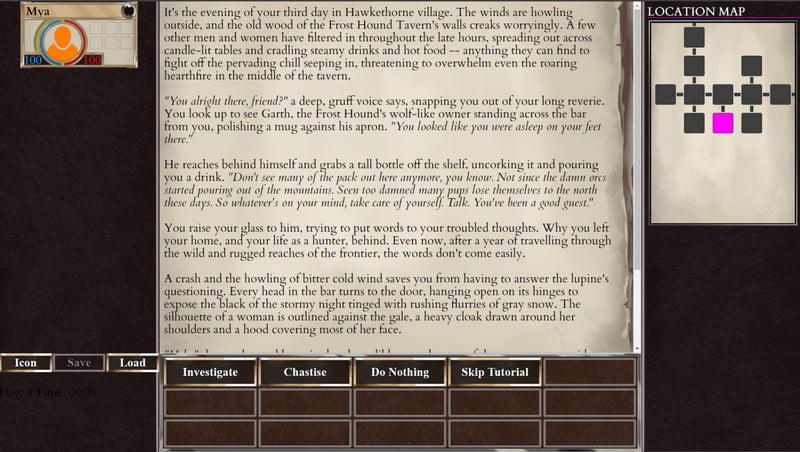 0.5.34 Patch Notes:
The quest "A Teatime for Dragons" has its resolution now. Once you've dealt with the half-dragon's request in the Rift, head to the western reaches of Harvest Valley to uncover the fate of her last relative. You'll have to make a choice with this quest, based on who you want to talk to about the problem therein: either Evelyn or Azyrran are going to get an expansion out of it.
Evelyn has all-new sex scenes – several different rotating ones, a few deliberately pickable ones, and several incidental ones!
All-new conversations to do with Evelyn's future direction. You can choose (mostly) whether or not you'll be servicing her during these conversations.
More longevity to your stays with her. You now (mostly) stay with her after servicing her, or vice versa.
A scaling fight! Owing to the events of the expansion, you can now spar with Evelyn to train her up. She will actually scale up as a result of your training her, resulting in harder and harder fights (to a limit).
She will not grow more difficult if you lose twice in a row.
Sex scenes for the fight results! Win, lose, or even throwing the fight, there's six total scenes there.
Events! Evelyn can get out and about, now. Just don't be surprised when her newfound powers make her a little overeager… especially if you've sparred with her 3+ times.
A new set/tf for Azyrran! Some of you may already know that Azzy's not-so-secretly had some future-proofing in literally all of her content that's never shown up. But the future is now! As with the honey-maid, her new gear set is a transformation that comes with a shinier, domme-ier buzz.
New Azzy sex! – To nobody's surprise
All-new lesbian Liaden scenes – Both with just you and her, and as a threesome with Azzy.
More Azzy/Lia content (featuring loads of tweaks thanks to writer Alypia, she's a real good bean)
A new sexable magic weapon, rub its flanges you dirty slut.
A new sexable character, she's a very good girl.
v0.5.33
Hotaru now has a talk option about Tetsuya
Fixed a bug that caused crashes in combat if anything tried to add Psychic Resistance (most commonly Izkhanti Dress)
Fixed a bug that caused Odd Salve to keep swapping the Corrupted Alpha/Breeder/Matriarch perks if you were a herm
Fixed Driving Shot sundering for 2 turns instead of 1
Fixed a bug that made Kiyoko's New Year's and Mother's Day events not proc after she has been freed
Performance improvements, especially if you use a new larger custom icon, and when using the simple combat output option
Doing one of Nakano's tasks is no longer required to advance Tetsuya's romance arc
0.5.30
Eira, Lumia's courier, has been added to the Palace of Light after her goddess's quest. (by Gardeford)

You can help her deliver the mail (do this form Lumia's menu to unlock Eira as a repeatable NPC!), hang out, have sex, and even have babies with her.

Thanks to the new save system, the max size of custom PC portraits has been increased to 500KB.
Thanks to the new save system, you can now save in dungeons!

The exceptions are the Astral Plane, the Ways Between, and sequences where you play as other characters (ie Kinu and Gweyr).
If you are in a dungeon and bad end, there is an additional button now called [Retry Dungeon] that will take you to your last checkpoint before entering. This is to prevent you soft-locking yourself on your only save for a given character. That said, save often and in multiple slots (including to file every now and then)!
This was a bigger face lift to the code than you might think! If you encounter any issues or strange behavior regarding saves or dungeons, please report them on the forum!

New busts: Eira and Cassidy (both by Moira)
How To Install Corruption of Champions II
---
Extract
Play the game
Corruption of Champions II Free Download
---