Corruption of Champions II Free Download Latest Version
Corruption of Champions II Download Walkthrough + Inc Patch Mod Apk For PC Windows, Mac, Android – Many portals led to Mareth, but none left it.
Developer: Savin/Salamander Studios Patreon
Censored: No
Version: 0.5.23
OS: Windows, Android
Language: English
Genre: 2DCG, Text based, Fantasy, RPG, Adventure, Female protagonist, Male protagonist, Futa/trans protagonist, Character creation, Furry, Futa/trans, Gay, Lesbian, Big tits, Rape, Transformation, Corruption, Virgin, Mobile game, Monster girl, Milf, Big Ass, Masturbation, Religion, BDSM, Ahegao, Combat, Humor, Handjob, Groping, Monster, Titfuck, Puzzle, Romance, Sex toys, Sissification, Spanking, Teasing, Tentacles, Turn based combat, Virgin, Voyeurism, Dilf, Male Domination, Female Domination, Multiple penetration, Multiple endings, Lactation, Paranormal
Overview
---
There are many, many worlds.
One, called Mareth, was perhaps the heart of them all. Cracks in the space between worlds, called portals, all seemed to lead there. Many portals led to Mareth, but none left it.
One sacrifice came from the village of Ingnam. This so-called 'Champion' was but a pawn in the village elders' long plot to extend their lives, but the Champion escaped her fate by beating back the demons' minions waiting on the other side of the portal, and set out on a one woman crusade to bring an end to the Demon menace once and for all. That was a year ago, and a world away.
You have never heard of a world called Mareth, nor a village named Ingnam. Nearly a year ago, you set off on your own, leaving your former life behind to seek your fortunes on the wild frontier – a year of traveling, exploring, fighting, and surviving alone. You've earned yourself a little coin in your travels, enough to book passage to the furthest reaches of the known world: the Frost Marches.​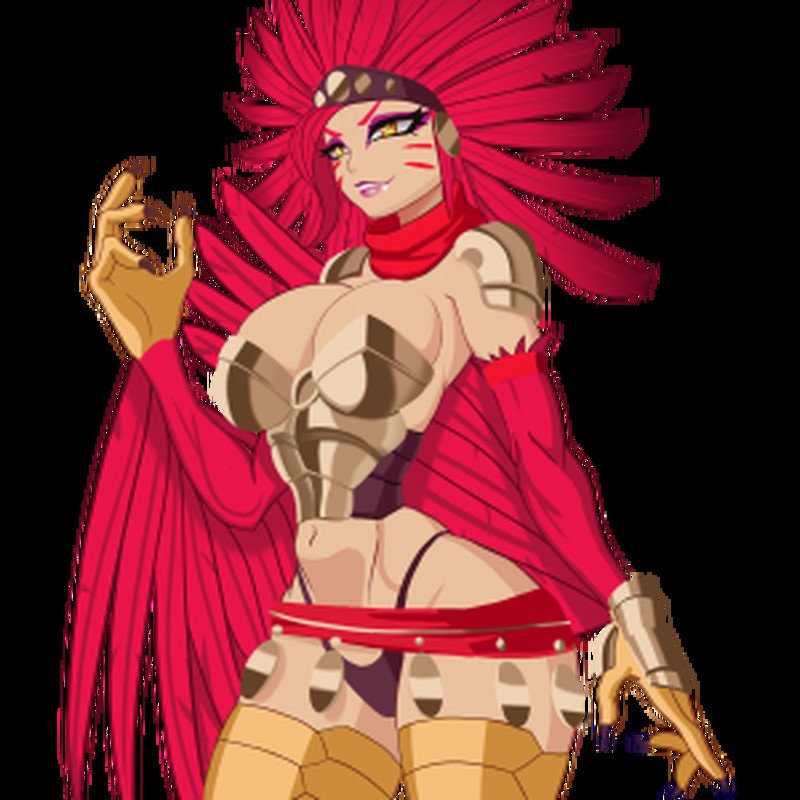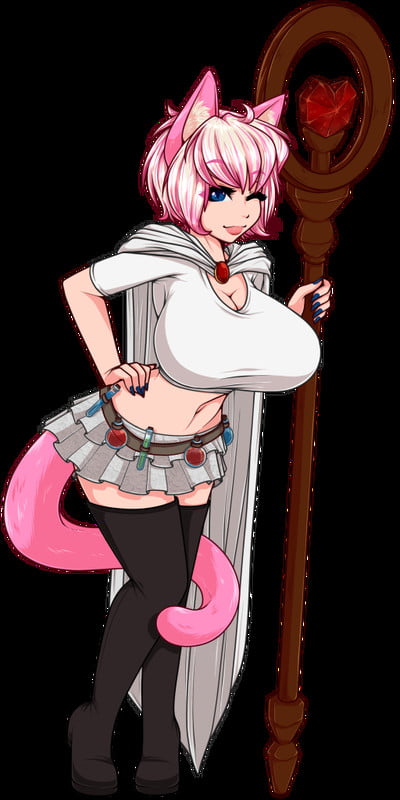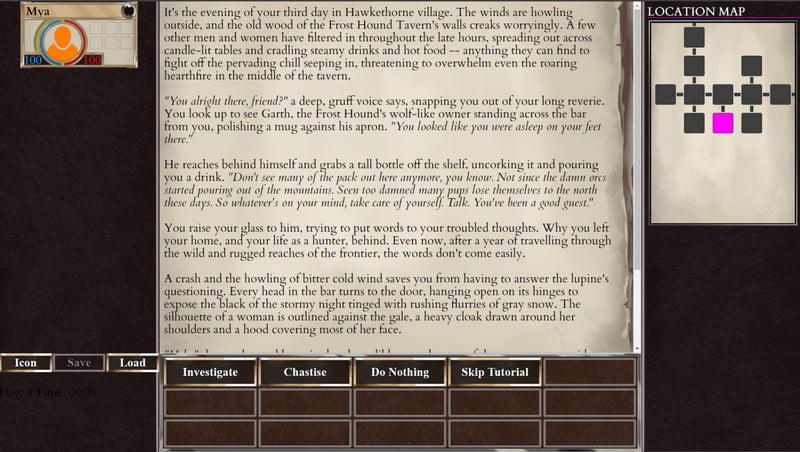 v0.5.23
Nina has a quest! (By TheObserver)
Zo has new preg busts. (By DCL)
Seeing any of the Berwyn/Matiha CG variants will now unlock all of them in the gallery.
Hotfix: An issue with flying companions has been resolved.
v0.5.21 Patch Notes:
Viviane, the witch of the woods, has a new questline that ends with her recruitment.
Bring her some succubi milk to investigate its magical properties, and she'll pursue that with all the rigor of a mad mage. (By Balak)
Bunch of bugfixes.
New busts for a recruited Viv (by Moira)
v0.5.17
After having finished Gweyr's third dungeon, you can now approach Imora and undertake the siorcs' challenges below the waves. (by SomeKindofWizard)
After finishing the Temple of Challenge, you can freely explore Starhome and interact (sexually) with several of its residents. (by SomeKindofWizard)
Doireann can now give you a lovely titfuck. (By Wsan)
You can now summon Talsenne from the Wayfort's Summoning Circle (after buying it from Evergreen, and of course acquiring Talsenne from the Ring of Fate quest) for some lewd fun. (by SomeKindofWizard)
New Busts: Shaman Seastone (by Sulcate) and THE DREAD HYDRA (by Moira)
New CG: Shaman Seastone on her Throne (by Sulcate)
Steam beta key: eNN6ku5vs5k42Pku4W42
0.5.13 Patch Notes:
There are several new scenes at the Milking Barn in Khor'minos: if you're fucking Livrea, she'll show up for some fun; if you're romancing Kasyrra, she'll show up for some fun; if you bring Cait along she'll now (optionally) join in on your milking adventures with you, with new variants for all the girls (except Kas; she's shy). Cait sucking titty at the barn will trigger her enthiccening content, the same as her sucking a billion minotaur dicks with you at the guard post.You can now build a dungeon to hold prisoners in the Wayfort once it's been renovation. The dungeon doesn't have any occupants at present, but there's a couple of individuals in Ryn's upcoming quest that'll start filling it out…Sandre & Caera can be moved to the Wayfort. They have new talk & interaction options there, including new sex scenes when you gamble with them. (By Fleep)Vari is now a persistent character rather than a random encounter. She occupies a new tile north of the Wayfort a bit. You can now go to Vari's village whenever you want, even when she's pregnant, by talking to her.New Busts: Hotaru, Kas at the Barn, and Spirit Wolf's combat bust.
0.5.12 Patch Notes:
There's a new kitsune seamstress on the upper floor of the den by the name of Hotaru! (By Tobs)
Hotaru has a number of new talk and sex scenes, and Rindo and Kohaku have talks about her.
Mallach's Temple has new options for working the rooms and with random clients. (By Tobs)
New Busts: Marefolk Stylists
New CGs: Hotaru Bath, Quin Knight set. Quin's Knight set CG is currently shown as part of his training regimen with Atugia, in a future patch you will be able to see it from his appearance screen whenever he has the set equipped.
v0.5.11 Patch Notes:
Nash has a new TF for a extra big, spiky, horny lizard folk. (by Wsan)
Serena has a new sex scene: nursing handjob/fingerbang. (by Alypia)
June has a new sex scene: finger/jerk him till he nuts. (by SuperB1tch)
Atani's Marefolk Guard have a new sex scene: dom them both. Requires having married Atani. (by Funtastic)
Drifa has some minor comments during Solveig's quest. (by Jstar)
The forest elfboi has a new sex scene: 69 & Fingering. (by DanielXCutter)
Tui has a new talk option during Halloween or on Holiday mode. (by Gardeford)
New codex entry: Anubians
New Busts: Quin's new set combat bust (by Sulcate), Moira's version of his regular set combat busts.
New Since Last Public Patch:
You can knock up Miko OR Mai now.
Brint and Brienne have a new gym expansion.
Quin has a new set-getting quest and some various new events.
Matiha's tower can be visited directly from the Ways Between.
New Busts: Preggo Mai, Klem's harem.
New CGs: Berwyn/Matiha fuckbuddies; Mai bondage; Quin armor-ing.
0.5.9 Patch Notes:
Quin has a new quest that results in him getting a new set of heavy armor to protect his friends with. You'll need to get his relationship score up then, after a bit of prompting, talk to Atugia about training him into a proper warrior.
Atugia and Quin have new events in the Hawkethorne Gym, and Cait, Atugia, and Brienne have updated Quin-centric talks.
Quin has new one-off interactions at Ivris's, the Frost Hound, and any Hawkethorne gate — all of which increase his relationship score.
New Quin CG if you spy on him while his armor's getting fitted (by Sulcate).
v0.5.8 Patch Notes:
You can now knock up either Miko or Mai — you can't do both on a single playthrough, since one of the sisters needs to be responsible! This comes with a ton of new scenes for Mai and revisions to all her old scenes to accommodate her pregnancy. (by Tobs)
Brint and Brienne got a gym expansion: you can work out with them, or "work out" with them. If they haven't cleared the gym's field yet, remember that they will after it's been 3 days since you first visited it and you wake up in Hawkethorne. (by Wsan)
New preggo Mai busts, and Klem's harem bust, by Moira
New Mai CG by Moira as well.
0.5.7 Patch Notes:
Berwyn can no longer be recruited into the party, though he's not gone — he'll be found in the Guests tab at the inn after you help him against Matiha the first time.
A week after completing the Winter City dungeon and Berry's first quest, a mysterious 'mander mage will approach you in the inn. Help her find Berwyn, and she'll help you both find Matiha.
If you accept the 'mander's quest, you'll be taken to a very unique dungeon that's going to play some mind games with you! Read carefully…
When it's all said and done, there are a frankly stupendous number of choices you'll be making which substantially change a pair of characters' content. Said characters also have a lot of new sex content — over 100 pages of just pure cheek clappin', all courtesy of B!
Matiha has a scene with the Behemoth (by Tobs), too.
Berwyn has a whole assload of new busts by DCL (with edits from Moira). Matiha has new busts by Moira. The 'manders on the quest have busts by AnonArts.
Drifa also has busts now! (By Moira)
How To Install Corruption of Champions II
---
Extract
Play the game
Corruption of Champions II Free Download
---