Henteria Chronicles Ch. 3 : The Peacekeepers Free Download Latest Version
Henteria Chronicles Ch. 3 : The Peacekeepers Download Walkthrough + Inc Patch Mod Apk For PC Windows, Mac, Android – Year 853 after the Celestial Beings fell on Henteria.
Developer: N_Taii – Patreon
Censored: No
Version: Update 6
OS: Windows
Language: English
Length: 8h+
Genre: 2DCG, 2D game, Animated, Male Protagonist, Corruption, NTR, Male Domination, Vaginal Sex, Virgin, Oral Sex, Masturbation, Internal View, Gangbang, Blackmail, Anal Sex.
Overview
---
Year 853 after the Celestial Beings fell on Henteria.
The island-kingdom of Nos'Ra is, in spite of its small size, one of the most prosperous in all Henteria. The island is considered by many as a land of opportunities, hopes and dreams, where anyone can get a fresh start in life. That is what Leto and his family were hoping for when they clandestinely boarded a boat headed for Nos'Ra . However, after a tragic and mysterious accident, our young protagonist ends up alone in a foreign country, surrounded by unknown faces.
The game follows Leto as he grows up in an entirely new environment and meets new people, such as the kind-hearted Haylen, his adoptive mother, his new sister, the reserved Cyanna, Lily, with a temper as fiery as her hair, and Rose, the princess of the kingdom. None of them are aware of the dark fog that is slowly enveloping the capital city of Luminia, and the plot that will target the women around Leto and throw his life in disarray.
(Look up Developer Notes for more in-depth Q&A. Save for portraits, the game is mostly pixel art as shown in the screenshots)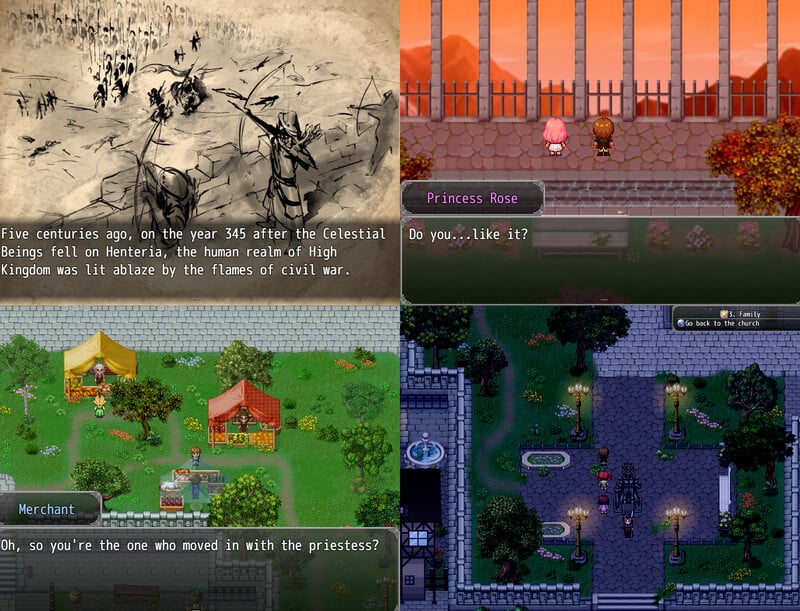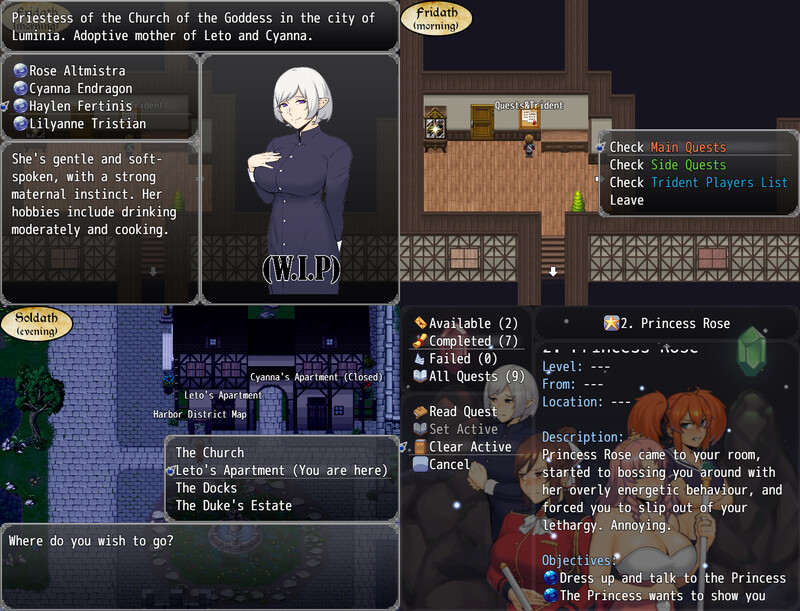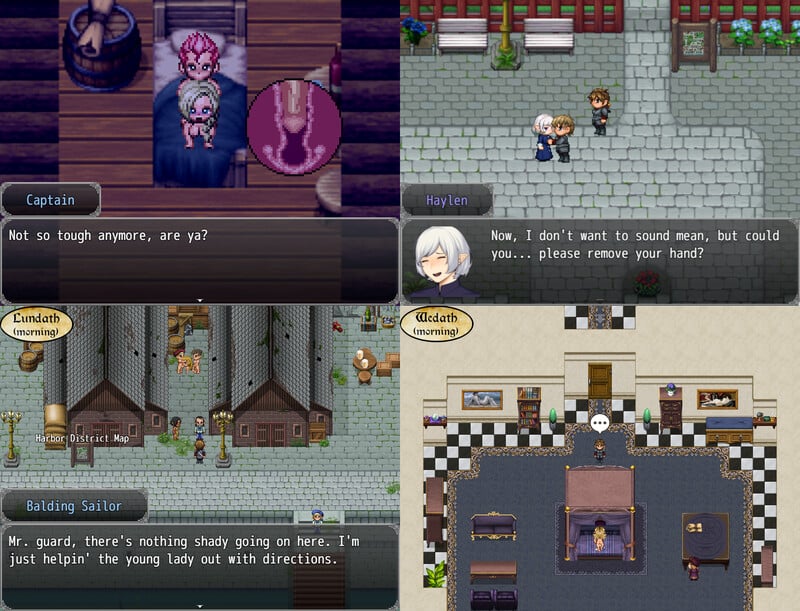 Update 6
-Added quest 14 and 15, Haylen and Lily's 3rd side-quest
-Added 5 new scenes (2 with Haylen, 2 with Lily, 1 with Naevyr for Haylen's quest) with PoV variations and custom animations
-Added one extra-scene (Merri the barmaid)
-All scenes added to the reminiscence room (along with the ones from the previous update)
-Added quite a few new maps
-Added 5 new freeroam events (2 are directly tied to a scene, 3 are random on the map)
-Updated 3 new mini-stories (Loan shark, the mother and the bully, and the guitarist)
-Added one new Triple Trident opponent +updated Triple Trident board + quest board
-Updated the walkthrough + added a short description for all the extra scenes currently in-game
-Added 1 save for the beginning of Update 5 (save 6), update 6 (save 7), and updated the save with all content unlocked (save 100)
– A few bug fixes, typo fixes and minor tweaks I can't remember.
How To Install Henteria Chronicles Ch. 3 : The Peacekeepers
---
Extract
Play the game
Henteria Chronicles Ch. 3 : The Peacekeepers Free Download
---