RE: Hero Academia Free Download Latest Version
RE: Hero Academia Download Walkthrough + Inc Patch Mod Apk For PC Windows, Mac, Android – You will be able to experience many lewd situations with your favorite characters along the way. 
Developer: Double-H Patreon
Censored: No
Version: 0.21b Public
OS: Windows, Linux, Mac, Android
Language: English
Genre: 2DCG, Male protagonist, Point & Click, Turn based combat, Masturbation, Exhibitionism, Voyeurism, Groping, Handjob, Lesbian, Oral Sex, Vaginal sex , School setting
Overview
---
In the game, you play as a Pro Hero, a fresh graduate from U.A, who was killed in action but was saved by a mysterious Quirk and sent back in time.
Given a second chance, it's time to hone your power, get closer to allies in order to solve the mystery of your future and try to avoid your impending doom.
You will be able to experience many lewd situations with your favorite characters along the way. Fair price for dying once, right?​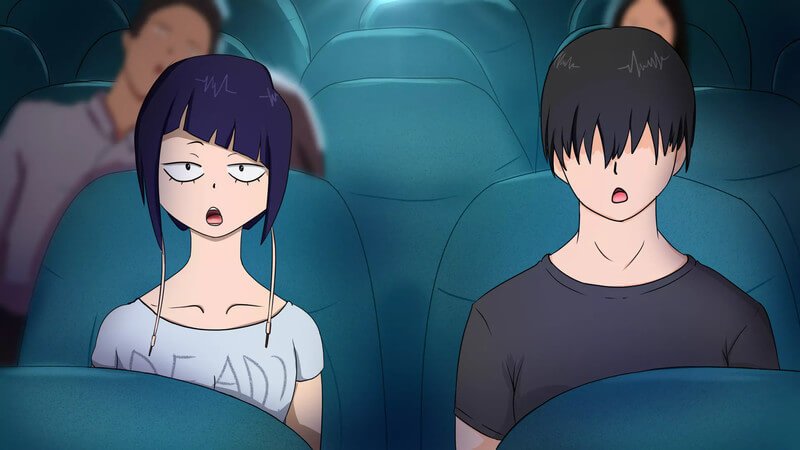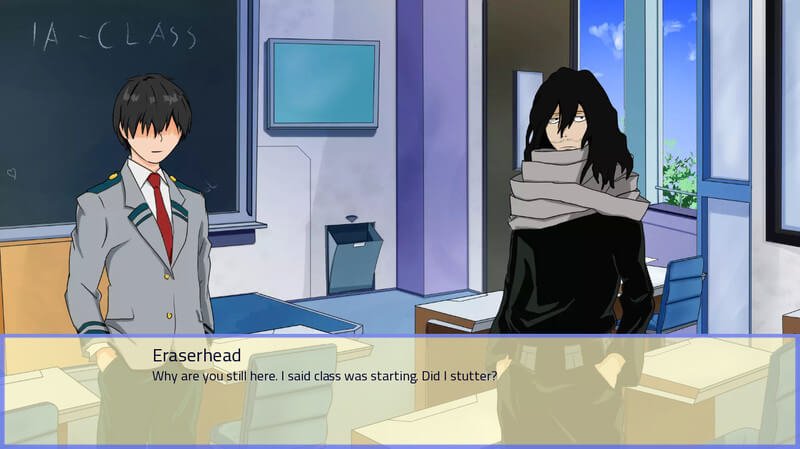 v0.21 Public

– Fixed some instances where the wrong fight occured within the Training Ground.
– Tweaked the Inventory screen's UI.
V0.20

-Old saves NOT compatible. I will upload my own save file if you just want to play through the new content.
– Note: You will be asked if you want to change your name when you first load a save.
– New Tsuyu scenes that expands upon the option to blackmail her after discovering her watching Midnight masturbate. This includes 4 new H-scenes, and 1 mini, can be missed, H-scene. Note that you won't be able to get Tsuyu to join you in time for Mei's cave dungeon if you choose this route, and the fights there with only Ochaco in your party is harder as your Quirk usage got even more limited.
– This route is still unfinished though, so new players should only choose it for the purpose of scene collecting, and make a save before choosing.
– 1 mini H-scene, repeatable, happens randomly as you visit Tsuyu when she's in her room after clearing the current blackmail route. From now on, more mini-scenes like this will be added with each update. They don't affect the plot though. Some of them will expand into mini-storylines, but generally they're just nice things to find as you go around the map.
– 1 new scene where Jiro and Tsuyu talk to each other. You will only see this on normal Tsuyu route, not the blackmail route. More scenes like this will be added in future patches. They are not impacting the plot, just random scenes to find and hear what the other characters are thinking.
– Tsuyu will now be in the Park in the evening on Tuesday and Thursday, except for some certain scenes.
– New character: A new OC Villain.
– Mei will now offer to buy the security cards from the Cave Lab. Talk to her after you've finished her current route to exchange those cards into money.
– New location: The alley between the convenient store and the Pub, can only be accessed in the evening.
– New QoL change: On the map and on the top bar now have a button that will take you back to the MC's bedroom.
– New QoL change: On the map, the Training Ground is now a proper building, as depicted in its BG, instead of a field.
– Also on the map, the button to access the school gate is now the school gate itself. The button on the school building will now directly take you into the school hallway.
– A new phone system, removed the redundant home screen, and the texts screen is now smoother.
– Gallery system added. You can access it from the MC's PC. It's appearance is still not finished, but it's functional.
– Inventory system added. You can now check what item you have in your inventory. Hovering your mouse over them will give your their descriptions. Some items can be used directly from there (potion, chocolate, etc…)
– Together with the inventory system, there's a new vendor system that allows you to buy and sell items to merchants.
– There's also a storage system, accessed by a drawer in MC's room. You can store money and items in there. You're advised to store excess money there for the moment, as there's a scene in this update, in which, if you don't satisfy its conditions, you will pass out and lose ALL the money on your person. In the future, fights with this type of outcome (if you lose) will be added.
– Memo notebook added. You can check your own stats, as well as NPC's current location. There's also a reminder for each NPC that will tell you what to do next, if you got stuck.
– New main menu.
– Some new visual effects and BG improvements.
– Fixed a bug where wrong fights occur inside the Training Ground.
– Fixed a bug where you can't go to sleep when certain events got overlapped (hopefully).
– Fixed some minor visual bugs.
How To Install RE: Hero Academia
---
Extract
Play the game
RE: Hero Academia Free Download
---