Monster Girl 1000 Free Download Latest Version
Monster Girl 1000 Download Walkthrough + Inc Patch Mod Apk For PC Windows, Mac, Android – A young, orphaned warrior lives as the sole male in a village of monster girls.
Developer: TwistedScarlett Patreon
Censored: No
Version: 11.0.0
OS: Windows , Android, Mac
Language: English
Genre: 2DCG, Male protagonist, Vaginal sex, Creampie, Oral sex, Turn-based combat, Big tits, Mobile Game, Monster girl, Harem, RPG, Pregnancy
Overview
---
A young, orphaned warrior lives as the sole male in a village of monster girls. The local deity, the goddess of fertility, tasks him to breed with 1,000 monster girls to help leverage the population. He's joined by an elf girl and a demon girl as he ventures out into a new, mysterious world full of monster girls to build his harem.​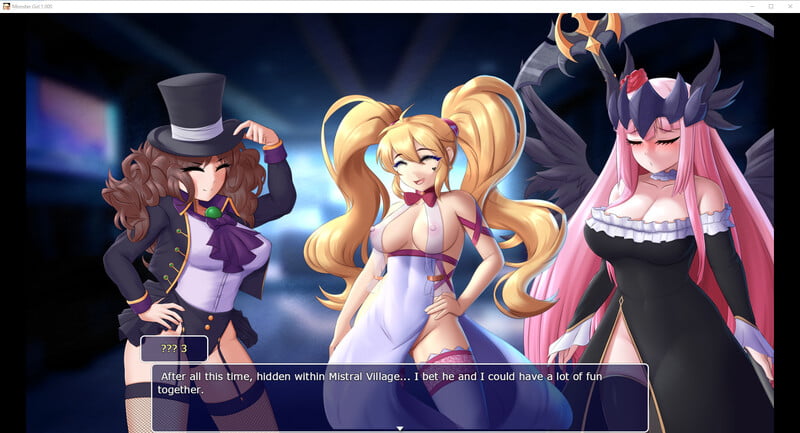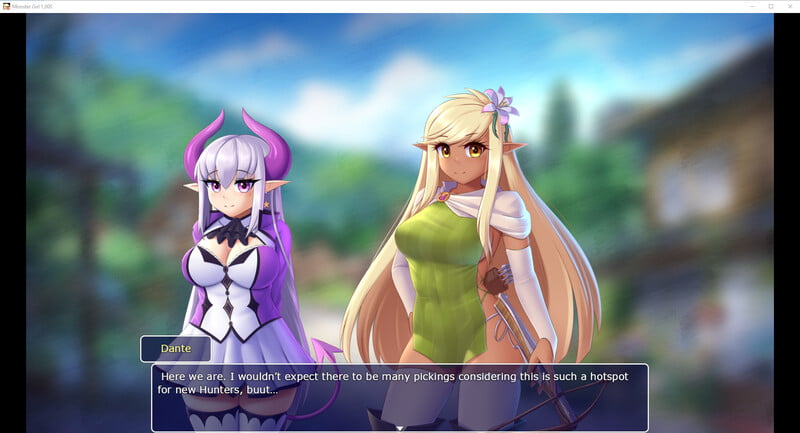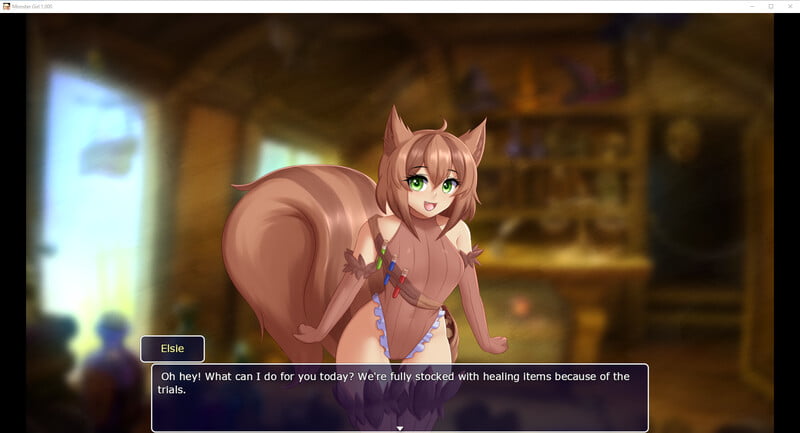 11.0.0:
Major:
Capital City Advancement 2 – The A-Rank, featuring 1 sex scene.
Capital City Story 4 – L'ightning Orchid, featuring 1 sex scene.
Side Quest: Cynthia at the Battle Shroom can now be flirted with, but she requires a little something out of you before the sex scene.
Massive Passive Overhaul: All passives now have an active ability. Almost everything has been changed, be sure to check out your "Special" skills.
Little Shroom City Townsfolk: You can now revisit both Dimple and Gemma after beating their contract. Dimple specifically leaves The Reach after this.
Improved Pregnant Sex Scenes: Alraune Sex, Mimi Cowgirl, Mimi Missionary, Tali Sex, Dobbi Missionary.
You can now ask Davy or Isadora for a Reverse Spitroast in Mistral Village.
Added Pregnant Variant: Davy/Isadora Reverse Spitroast.
Added a Day/Night cycle + Weather. Has no actual effect, but it's cool! Different types of weather and times of day have unique ambience and music.
10.0.0:
Major:
Three Contracts: Little Shroom City Advancement, Story 1 and Story 2, features three new sex scenes.
Two new prologue scenes. Mary Oral and Bessie Voyeur.
New Tournament, Ladder Match and Area Conquest match in Elysian Colosseum.
Four Little Shroom City Minigames:
Fire Dancer minigame: Test your reflexes!
High Striker minigame: Test your strength!
Trivia Machine minigame: Test your knowledge!
Scratch Cards: 49 Different Prizes. With a chance for a double win, and a jackpot.
Battle Shroom Arena: Battle with endless waves of increasing difficulty! Every few waves, the party will suffer a new handicap. Your record will be stored, and you can try again from it!
Rewards Shop: Trade Shroom Points for 18 new Items/Equipment
Championship Battle: For those that own the Champion's Belt and want a challenge.
New Completion System: Getting 100% in an area will give you a golden circle on the world map. Completion percentage is now based on the amount of golden areas you've achieved. Sometimes, golden circles disappear when new content appears in the area, e.g. updates or new contracts.
New Mechanic: Stealing, using the "Thief's Ring" accessory, you can now steal from enemies.
Three new Mythical Weapons: Super Shotgun, Galaxian Glaive and Elemental Dancer
Three new Mythical Accessories: Champion's Aegis, Critical Queen and Angel Wings
9.6.1:
Major:
New Contract: Capital City Advancement – Grrrand Magus
New Alice Sex Scene: Reward for completing all goals. She can become pregnant after visiting the Capital.
New Area: Little Shroom City, has an intro and 1 sex scene only.
Added pregnant version of Alice's missionary scene.
New Conditions for Wendy's pregnancy: Automatically happens after visiting completing Yulia's contract. Wendy's blessing added retroactively.
New Main Menu
New Pregnant Belly Art for: Alice, Alraune, Dobbi, Elsie, Fiona, Hides-in-Barrels, Isadora, Keke, Mary, Mimi, Moona, Tali, Wendy, Yulia
New Colosseum Ladder battle (Level 28)
Final Training Arena battle (Level 99) added along with its three rewards.
New Mechanics: Defense Penetrate: Ignore a percentage of an enemy's defense, dealing increased damage. +Max Stat Buffs = Increase the maximum stat buff from 130% in increments of 6. +Turn Duration to stat buffs = Make stat buffs last longer. +% Damage Cap = Bypass the damage cap of 999,999 by +%.
Defense Overhaul – Better Defense Scaling: Battlers now get more damage resistance depending on their defense, increasing damage resistance. Damage Resistance = 100/(100+Defense/2). 200 Defense = 50% Damage Resistance.) This makes defense and magic defense more effective late game, and it better stands up to the high attack scaling. Currently, no main storyline enemy gets more than +20% resistance from this change.
Minor:
Fixed Stuttering on World Maps!
You should get a lot less lag in battles now!
Damage and Health over time effects now occur every turn instead of every 100 ticks.
You can now use Mini-Potions, Potions, Hi-Potions and their mega variants out of battle.
Davy's Blessing now additionally gives +20/30/40% Water Resistance, and +5/10/20 Luck.
Protagonist's Blessing: Now additionally gives +5/10/15% Physical Damage Resistance.
Guinevere's Blessing: Now gives -20/40/60% MP Cost Rate.
Sybil's Blessing New Effect; Auto-Berserk +10/20/30% All Stats
Cheeki Breeki Blessing New Effect: +4/8/12 TP Regen. +5/10/15% TP Charge Rate
Polishes Many Spears New Effect: +5/10/15% Outgoing Damage.
Dimple's Blessing New Effect: +10/20/30% Outgoing Elemental Damage.
Various unlisted minor blessing buffs.
All Armors Nerfed: Attack Scaling from +5/15/25/35/50/60% -> +5/10/15/20/25/30%
Building Upgrade Shops have been combined.
Blessings can now be optimized
Dimple's Shadow now has a body
"Love Making" now has a 25-turn cooldown.
Cheer and Focus now only last ten turns.
Alice Sex Scenes now start automatically once unlocked.
Luck no longer increases evasion.
Gallery updated to include Capital City.
Alraune's Luster is now a sword. It now additionally gives +15% Max MP.
Misc:
Fixed Capital Repeatable not getting harder.
Fixed unlocked areas on world map not appearing green.
How To Install Monster Girl 1000
---
Extract
Play the game
Monster Girl 1000 Free Download
---