Milfairy Tales Free Download Latest Version
Milfairy Tales Download Walkthrough + Inc Patch Mod Apk For PC Windows, Mac, Android – He is the son of the legendary heroine, who once saved the world from chaos.
Developer: LeelaK – SubscribeStar
Censored: No
Version: 0.3766
OS: Windows, Mac
Language: English
Voices: English
Genre: 2D Game, 2DCG, Male protagonist, Voiced, Fantasy, RPG, Combat, Big ass, Big tits, Incest, Milf, Spanking, Voyeurism, Cumplay, Facial, Anal sex, Tentacles, Female domination, Monster, Monster Girl, Lactation, Anal creampie, Cum eating, Handjob, Blowjob, Sex toys
Overview
---
Follow our hero-in-training (Default: Mark), in his quest to master his family sword-style. He is the son of the legendary heroine, who once saved the world from chaos. His mother's fighting style draws powers from one's inner sex drive, but she thinks she can't fully teach him all the principles. So he will have to learn even more from his foxy masters, on how to turn his sexual tension into power! Yet, little does he know that his journey will be the beginning of something much greater and that the land might be in need of another legendary hero soon enough. Join him and his colorful party of sexy Milfs on a magical journey through Milfairy! A fantastic land of many mysteries, protected by the Goddess of absolute love!
Expect a mixture of a traditional JRPG, with combat, dungeon exploration, dating and sex games with the girls from Milfairy! Embark in a story that will join two unlikely star-crossed lovers in a quest to save their world once more and for all!​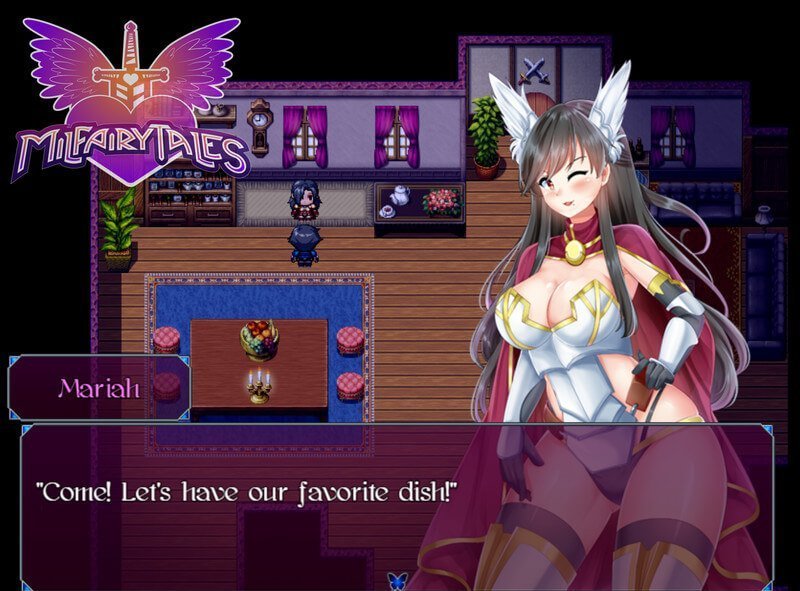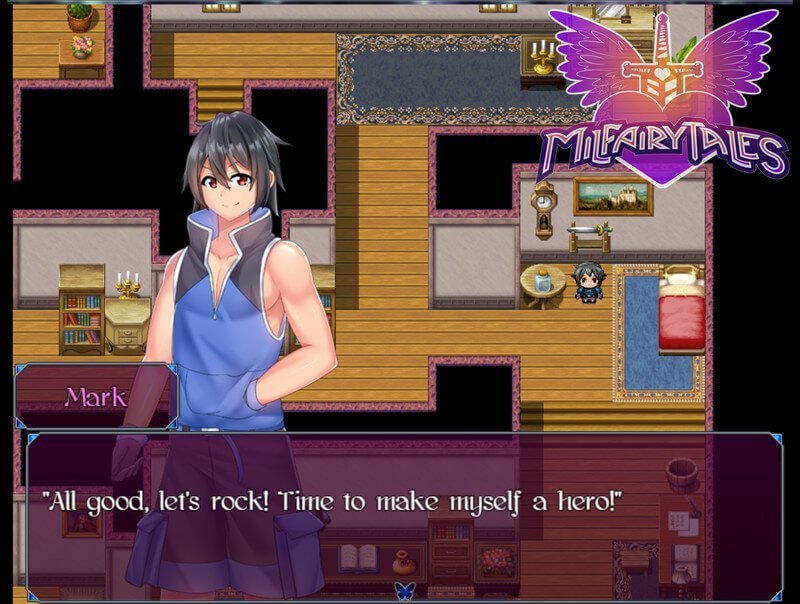 v.0.3766
Added an extra Veronica scene after her quest is done. Go to the Master Task book at night to check the scene.
Added some missing dialogue and NPCs at the arena.
Added final performance results for the shower scene. You can play it even after having finished it once and still get the rewards. 4 different rewards states based on how many special triggers you hit in the scene.
Some bug and encounter fixes.
Overall changes:
Extra visual animations for battle status.
Added a "party split" indicator (near daytime) to show when you can get special interactions with the party members (in progress).
2 new skills to master (new master). 9 in total were added but the other 7 need Part 3 stuff so they won't be accessible just yet.
Fixed faulty tiles that would lock characters in place or that the character would be able to jump/go through. Always save in new rooms and keep reporting those, it's difficult to catch on every weird tile interactions.
More short travel routes (Amazon Village / Café)
6 new scenes added in total. 9 new CGs included. 2 can be replayed indefinitely.
2 new LLM scenes. One of them has some of the final features for the mode. Weakness hits, Body Lotion item works in this one (shower scene). Eventually LLM will have a full overhaul once all its systems are in place and the free dating mode is added. Lmk if you run into anything weird.
*Don't forget to save often*

Added Chapter 4 – Part 2/3
– New location: Amazon Village
– New dungeon added.
– New location: Love Letter Café
– 2 new villager quests and 2 new story quests added.
– 2 new bosses. 3 new mini-bosses (hunts).
– New crafting recipes
– Added a new master. Intimacy can be increased to Level 1.
– Added the second style of kitchen, Rustic. (Amazon Village)
– Level 4 Equipment available on shops after finishing a new quest.
– Fixed some tiles that were getting players stuck in certain areas (like Deeper Woods' chest).
– Hunt side-quests available (#1, #2 and #3). They're battle challenges for the full party. 3 of them are available now. More to come later.
– Current Gallery CG count is 255/257 (including variations). Some pics still aren't unlockable in the gallery just yet.
– Added new items and more secret rooms.
– Tons of new animations added (field/enemy skills/moves/etc)
– Plenty of bug-fixes and QoL changes spread around.
[Known Issues]
Replay scenes for the new scenes were not added yet. The replays will be added at the end of the chapter (next update).
Raphy's hints aren't fully implemented yet. They'll be added once the full chapter is finished.
Retry battle function is known to glitch out some battles. I don't recommend using it in mid-cutscene battles.
Pressing "S" or clicking on the Mastery Menu (top-right) will fix many visual related bugs and glitches (portrait not showing, event indicators not showing, MC getting weird speed or face on, etc).
How To Install Milfairy Tales
---
Extract
Play the game
Milfairy Tales Free Download
---