School Game Free Download Latest Version
School Game Download Walkthrough + Inc Patch Mod Apk For PC Windows, Mac, Android – School Game is a game with RPG elements.
Developer: Sloths Command Patreon – Discord
Censored: No
Version: 0.931
OS: Windows, Linux, Mac, Android
Language: English (machine translated), Russian
Genre: 2D Game, 2DCG, Male Protagonist, Mobile Game, Big Tits, Creampie, Sandbox, RPG, Simulator, Strategy
Overview
---
School Game is a game with RPG elements. You create your character and evolve in a school environement. Learn skills, buy equipement, meet classmates, build your reputation and budget, be a member of the student council and various clubs, and improve your relationship with the head of the student council, which you may decide to replace. Isn't it what everyone wanted in high school, even in student years: complete freedom of action?
​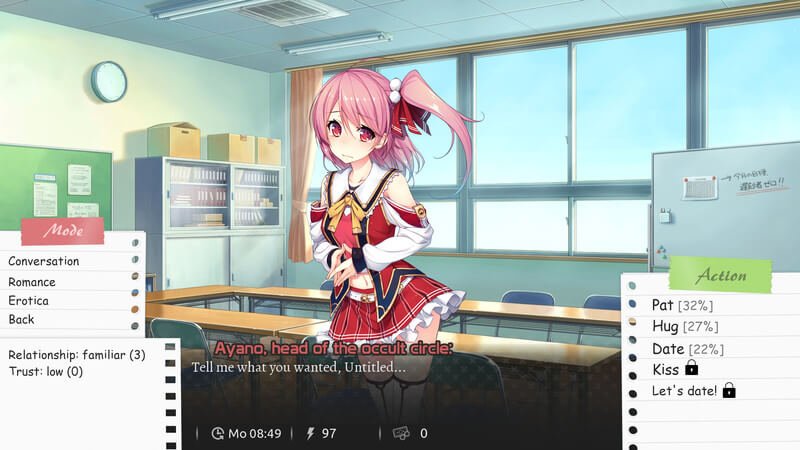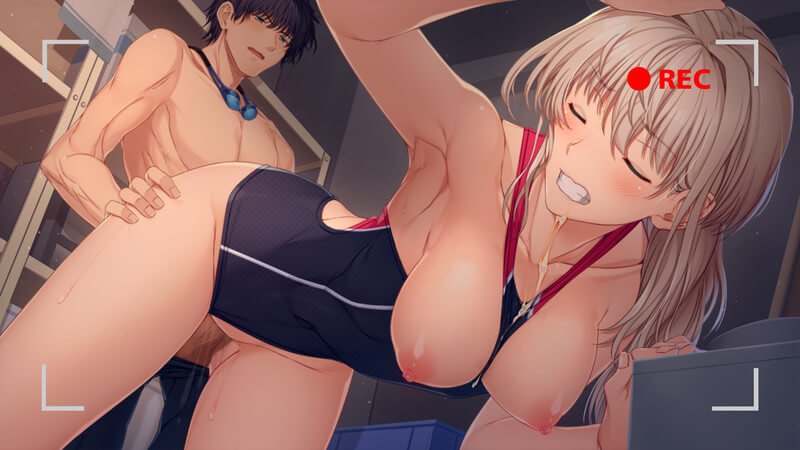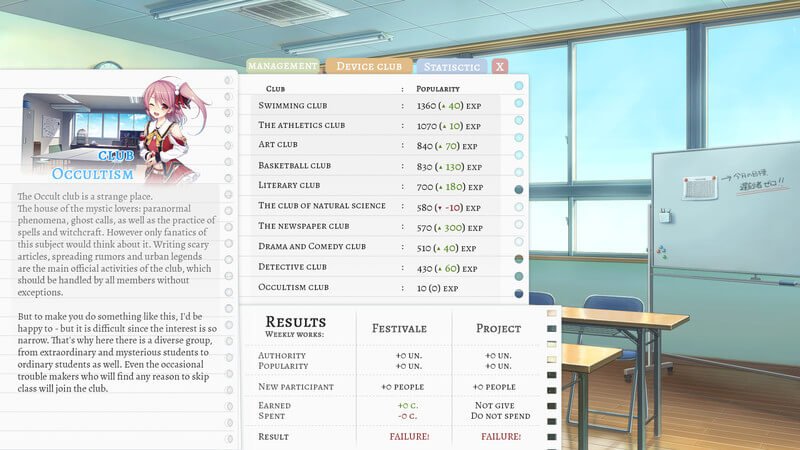 v0.928
New content:
— Now, to have sex with a randomized NPC or get a blowjob from him, instead of the usual relationship glasses, you can use fear glasses. If NPC refuse sex/blowjob, an option of intimidation will appear. In addition, now you can try to bribe a randomized NPC with money to have sex with you/give your character a blowjob. Especially for this option, NPCs are generated with new influence statistics – corruption and the very probability of successful bribery is influenced by the nature, current financial situation of the NPCs, as well as many other factors.
— Randomized female and male NPCs have new types of faces, eyes, noses, and in general, their faces will now be strikingly different from each other. This will create a significant variety in the overall choice of the available randomized NPCs: some will be more Asian in appearance, others European, and still others are mestizos.
— Now, when you extort money from a randomized NPC, even with a high level of relationships, this interaction will be considered aggressive. They will no longer just give your character money.
— The work of fear in randomized NPCs has been changed: more interactions have appeared in actions in the category of romance, which can be successfully performed by intimidating a randomized NPC. This also includes actions of 18+.
— A new action has been added to the category of romantic interactions – "Undress for me". For its success, you can use the usual relationship points, fear, or try to bribe a randomized NPC. In addition, it has quite a lot of development branches, which in turn manifest themselves depending on the method you choose to interact with the selected randomized NPC.
— In the interactions in the category with neutral actions, a new interaction has appeared – debt of money. Now your character can borrow money from any randomized NPC, and the possible amount will depend on his greed, your relationship and some other factors! In addition, an event with "debt collection" has been added to the game, if you forget that you once borrowed money from the RNPCs.
— Now is possible to force a randomized female NPC, who lost to your character in battle, to give a blowjob. In addition, some formulas/mechanics/systems related to the post-fight selection system have been redone, as wel
– Now with randomized NPCs, you can break the existing romantic relationship. This choice appears if you meet with the selected randomized NPC, instead of the "Let's date!" button.l as some values related to the combat system itself have been corrected.
— Now randomized female NPCs can invite your character to have sex with them. The probability of this event depends on many factors: chance, your existing relationship, the number of sexual acts and even the time of day. In addition, this event is affected by a button with a complete shutdown of events with RNPСs from the game settings.
— Now randomized female NPCs can declare their love to you while interacting with them! The more the RNPCs has the courage, the predisposition to romantic actions and the points of love with you, the more likely he will confess to you. In the event itself, with this, you can both reject a loving girl, and start dating her.
— Now randomized female NPCs that you date may require your attention if you don't interact with them for a long time. A new kind of timer was made especially for this event, which is constantly reset as soon as you communicate with this randomized NPC.
— Now, to rip off the clothes from a randomized female NPC, you do not need to click on it. This feature has been moved as a button in the interaction menu in the category with aggressive actions. In addition, an addition to this has also been added here: now you can tear off swimsuits from girls on the beach.
— Now randomized female NPCs, if you haven't asked them for a phone number before, can offer to exchange them if there is a sufficient level of relationship.
— Now, in the randomized NPCS editor, you can change the gender of the selected character. In addition, male randomized NPCs now appear in the list with NPCs, which can be edited to your liking. The new face settings are also relevant for the editor: both sexes have this function.
— Randomized female NPCs can now dump you if they find out you're dating someone other than them! The chance that they will find out about it is influenced by the luck attribute of your character, the nature of the randomized NPC, as well as the total number of relationships you have created with female RNPCs. In addition, even if they find out about your adventures, it will be possible to escape from this situation with many choices that will already be influenced by other attributes of your character!
— Now, after successfully leveling the level, a notification will appear offering to proceed to the selection of available perks.
— Randomized male NPCs have a new hairstyle, as well as a redevelopment of the old one: now instead of one color, twelve colors have been made for each of them. In addition, three length parameters have also been made, as is already the case for female randomized NPCs
How To Install School Game
---
Extract
Play the game
School Game Free Download
---