LonaRPG Free Download Latest Version
LonaRPG Download Walkthrough + Inc Patch Mod Apk For PC Windows, Mac, Android – Cold… Grim… Unforgiving… Deadly… This is the world of LonaRPG.
Developer: EccmA417 – Subscribestar
Censored: Yes
Version: 0.7.8.4
OS: Windows
Language: English, Chinese
Genre: 2DCG, 2D game, Female protagonist, Fantasy, RPG, Adventure, Sandbox, Animated, Virgin, Oral sex, Vaginal sex, Anal sex, Rape, Bestiality, Monsters, Pregnancy, Urination, Scat, Combat, Graphic violence, Ryona
Overview
---
Cold… Grim… Unforgiving… Deadly… This is the world of LonaRPG.
Play the story of a young woman named Lona, who must survive in this gothic and cruel world.
Explore a grimdark, twisted, and open world where one little mistake can cost Lona her life…
Can you help Lona survive? (And protect her smile?)​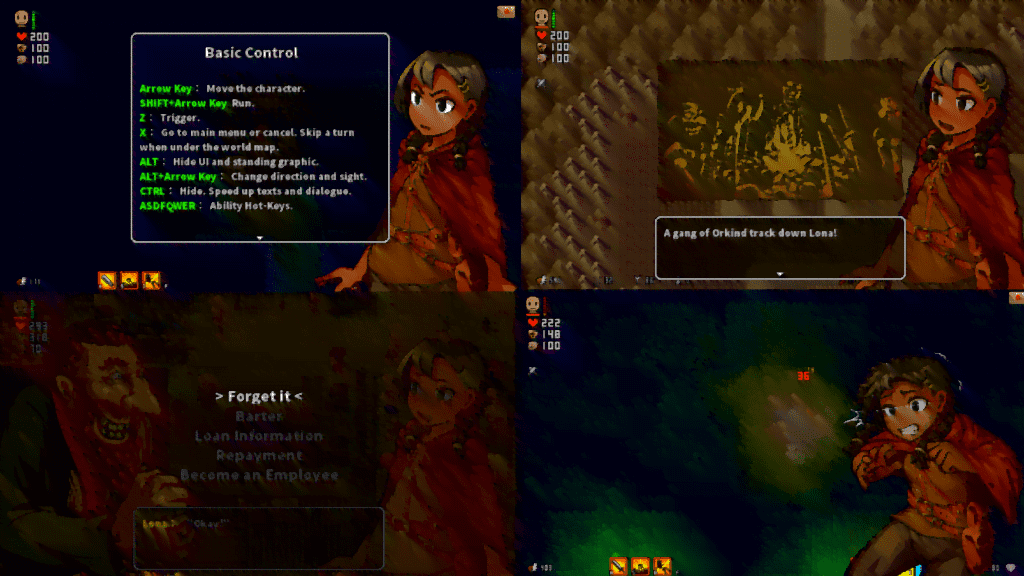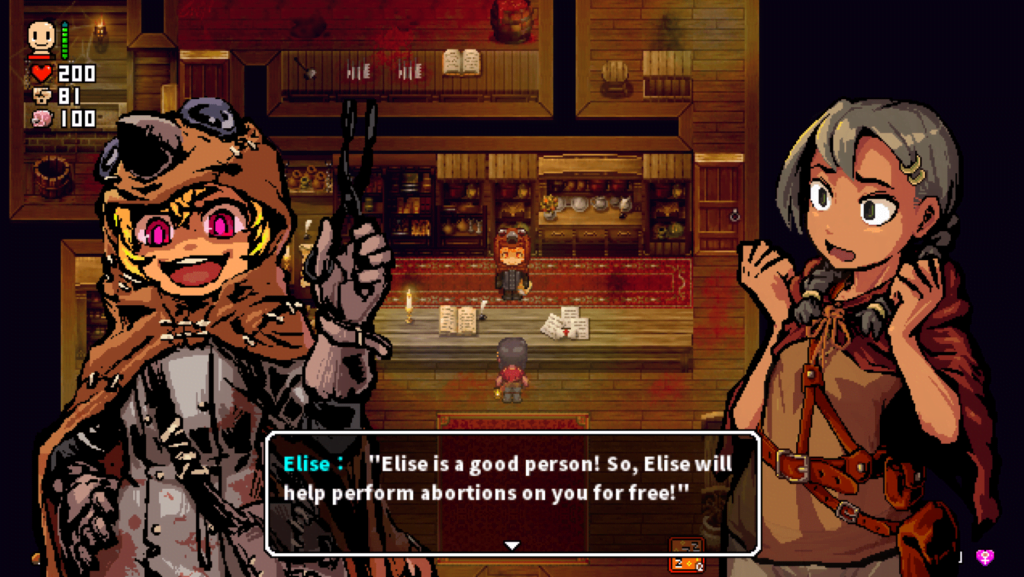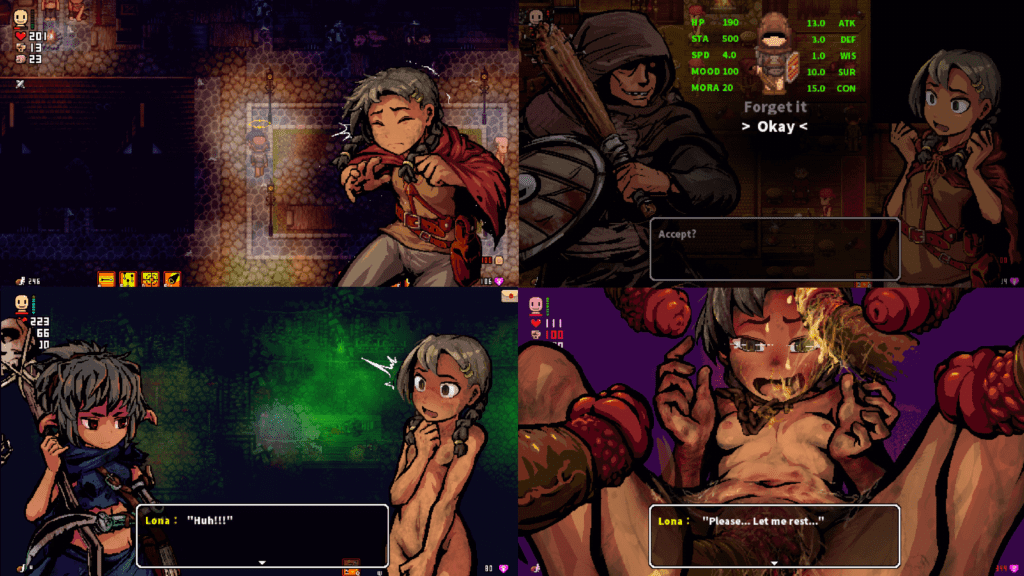 v0.7.7.1
N/A
LonaRPG.Beta.0.7.7.0
-buggy, "quit_read_mail" @arrow_up and @arrow_down visible nil crash.
-buggy, FishTownR rapeloop rest chance add 25%, sex party chance now based on Lona's health. and a bug test code cause every night is party time.
-buggy, prostitution error when fishkind customer check pregdates is a nil, now it return a 0.(rare)
-buggy, UniqueEvent_CoconaVag crash in RECroom.
-buggy, Fixed another typo in ending ship cause cocona ignore story progress and always on boat.
-buggy, after Prostitution action. follower should not attack customer.
-buggy, fix a old bug cause NPC during custom mode will unset_chs_sex in a frame.(now blocked by @story_mode_sex)
-buggy, fix Prostitution handjob customer Z layer.
-buggy, Cocona's sex_reciver_mode from 1 to 3.
-buggy, Skill UI page next and prev skill page function now reverse.
-fixed, shieldEV now block @action_state_changed when aggroed.
-fixed, Direction input delay from 3 to 4.(test)
-fixed, vomit in Hard diffculy now works. but *1.6times harder to trigger than hell or doom.
-fixed, DfWaterCave, semen Pot now gen food resource. and gen more when rapeloop.
-fixed, SFL loop quest MonsterBone reward from 3.5 big copper to 4.5
-fixed, checkOev_Pee,checkOev_PeePee now with full event parallel mode.(test)
-fixed, checkOev_Poo,checkOev_PooPoo now with full event parallel mode.(test)
-fixed, checkOev_Milk now with full event parallel mode.(test)
-fixed, checkOev_Vomit now with full event parallel mode.(test)
-fixed, checkOev_OutDress now with full event parallel mode.(test)
-fixed, checkOev_Arousal now with full event parallel mode.(test)
-fixed, checkOev_Preg now with full event parallel mode.(test)
-fixed, check_MainStats_event STA tired check now with full event parallel mode.(test)
-fixed, all katana weapon skills HitFrames/2, ATK buff time from 2 to 3.(also buff BossMama)
-fixed, BossMama now will read target's action and do dodge.(origianly for Warboss. but he is dumb&slow faggot, more fits for bossMama)
-fixed, BasicSexService_limbs_crit sta atk from +0 to *1.2,arousal atk from3 to 5, and fix damage result typo
-fixed, BasicSexService_limbs from attack fapper to all fucker targeted Lona in range 2.
-fixed, storage scene now can hold key to keep transfer items, and space(Skill9) key can transfer 10 item at a time.
-fixed, Lona's portrait update from actor stats change now based on idle_timer.(test)
-fixed, portrait system idle_timer now reset everytime when portrait setupped.(test)(will remove if too annoying)
-fixed, NPC in fatigue mode(STA<0) now FULLY STFU.(wont do any play_sound when spot a target)
-added, warboss test map in 94 27(still on dev. no reward and story, may cause bug even u win, save b4 u try)
v0.7.6.3
-*fixed, autoPeePoo when sleep fix in 0761 is temporary rollback because i feels annoyed.(pee can still trigger by WeakBladder)
-*fixed, Overevent stun stuck the game when player is in overmap.
-*fixed, overevent PeePoo, milk, vomit cause 1 sec stun.(actually add in 0761, but i forgot put this in log)(test)
+Changes made in v0.7.6.0 below:
v0.7.6.0
___shits in pics isnt included yet____
***prev stable will stop update for 2 week because 075x is confirmed pretty fucked**
***will wipe all Save Patch. will not support saves b4 0750**
-*fixed, range check bug in FishkindCave1_ToB2.rb
-*fixed, all score board is removed but NoerTavern(this need a unique ui to handle)
-*fixed, FishkindCave1_SeaWitchIdol ext follower range check reverse?!.
-*fixed, BasicSaintSmite now with longer skill ending frame.
-*fixed, TRY to fix bignum cannot trans to string when withdraw Bitmap from memory, now will return a blank image(hope everything is fine….)
-*fixed, TRY to fix a NaN crash when mouse update X or Y is 0.0
-*fixed, BossMama t2 remove begin dealy stance.(to 10frame. u can no more rush her)
-*fixed, Minigame controller error when mouse and gamepad both plugin.
-*fixed, basic sex wound chance based on RNG to RNG+DIRT and lower basic chance.
-*fixed, ghost dick bug when lona killed or stun a target during sex battle.
-*added, SouthFL add 3 loop quest, QuProgSFL_MonsterBone,QuProgSFL_BreedLingMeat,QuProgSFL_SpiderLeg
-*added, NPC:AbomBatHiveUltra
-*added, map:NFL_BatHive
-*added, map:r7_PineFroestMountain2
v0.7.5.1
**reset the map if cocona is a follower**
-*fixed, Number popup now with popup str check condition.
-*fixed, New mod API. FileGetter.load_mod_lona_portrait_parts_dir. manual chs setup.
-*fixed, GrayRat,DavidBorn,FireMage,Cocona now will not use any skill when moving by non shift AssemblyCall.
-*fixed, Fireball skills do double take_damage(0720)
-*fixed, some time when revicer NPC killed during sex with other npc will cause npc stuck in death(since Abom lona)
-*fixed, Smite now set direction when take effects.(so shield wont do weird block dir)
-*fixed, drop NorthFL SouthFL will game crash.
-*fixed, Game_PorjectileCharacter cant hit anything on deep water tile(since 0302)
-*fixed, Game_PorjectileCharacter all skill now will hit user if user is facing on wall.(all missile skills should do the same)
-*fixed, U should not get wireless parasite from cancel a prostitute in SouthFL.
-*fixed, @slot_index nil crash in equip UI page.
-*fixed, NoerArena SexBeast ghost move after death.
-*fixed, Double sound_death playback when Npc dead.
-*fixed, MT_crunch skeletons should not delete after nap.
-*fixed, dup items from drop item then load game.
-*fixed, NpcWoodenSpearHeavy, NpcManCatcherControl, ManCatcherControl, NpcHalberdControl hit_frame from 10 to 29
-*fixed, move most record and dialog stats from actor to story_stats(core)
-*fixed, update_sex_exp, update_melanin_eff, update_melanin from actor refresh to each nap(core)
-*added, score board to record ur kill count in every town and noerTavern.
-*added, Cocona prostituationEV and playable in RecRoom.(Human,Moot only)
-*added, UniqueEvent_PeeWithCocona if cocona is in prostitute line.
-*fixed, CHCG rotate crash
v0.7.4.0
**HEAVY CORE CHANGE. MUST DO CLEARN INSTALL. backup ur gameLona.ini and SAVE**
-*fixed, API: support use custom icon, custom graphics file for event, custom graphics path for ACH.
-*fixed, BattleStandard is remove from SaintFieldSupporter trait.
-*fixed, Skills with is_support tag now wont effect by terrian.
-*fixed, MT_crunch_ThatUndead.rb, follower_in_range? check fucked.
-*fixed, if Lona skill hit the grabber when grabber hit Lona with sex skill at same time. Lona will stuck in grabbed animation.
-*fixed, EliseGynecology Weird event playing when nearly give birth and do Miscarriage event.
-*fixed, NoerRelayOut PoorBoy quest stucked if PoorBoy aggroed and player just leave without kill him.
-*fixed, Mouse DPI now fit to window size.
-*fixed, Npc combo skills now will interrupt by death.
-*fixed, RecQuestSouthFLMain, hide timer, timer frame from 600 to 1500. hive hp ftom 1000 to 500.
-*fixed, Npc_AbomHiveLink: master NPC never aggro because typo.
-*fixed, AbomSpider and AbomBreedling sex fucker sprite missing.
-*added, npc:AbomBatHiveBig,AbomBatHiveSm.(console test only)
-*added, npc:AbomHiveHeart2(console test only)
-*added, weapon:ItemShSaintProtect, with HeavyBattleStandard(sell in SaintMonastery, can get by event reward)
-*added, weapon:ItemShSaintPurge, with HeavySaintJudgment(sell in SaintMonastery, can get by event reward)
-*added, Load game in system menu.
-*added, 3 more ext slot.
-*added, improve equip UI, with page button and EXT item icons.
-*added, region maps. r29_SYB_KeepAbom1,r30_SYB_KeepOrk1.
-*added, new encounter NFL_GobRaider on rg 19 28.
How To Install LonaRPG
---
Extract
Play the game