LifePlay Free Download Latest Version
LifePlay Download Walkthrough + Inc Patch Mod Apk For PC Windows, Mac, Android – LifePlay is a life simulation RPG that allows you to play in 186+ real world cities.
Developer: Vinfamy Patreon
Censored: No
Version: 4.14
OS: Windows, Linux
Language: English
Genre: 3D game, Animated, Simulator, Character creation, Male protagonist, Female protagonist, Dating sim, Vaginal sex, Oral sex, Group sex, Corruption
Optional: Pregnancy, NTR, Incest, Rape, Netori, Business simulator, Prison, Bestiality, Transformation, Lesbian, Gay
Overview
---
LifePlay is a life simulation RPG that allows you to play in 186+ real world cities. The game has extensive character customization and includes 632+ scenes, depicting life situations where your choice matters. The 3D sex scenes have 250+ animations, accompanied by well-written erotica.

With a new update every 2 or 3 weeks since its first release in April 2018, the game already has a lot of playable content you can enjoy for tens of hours. It's also very moddable – click on "Third Party Mods" from the main menu to check out what modders have made, or check the Docs folder to start modding yourself.
The game covers many different fetishes, but all of them are optional and can be disabled / enabled depending on your taste.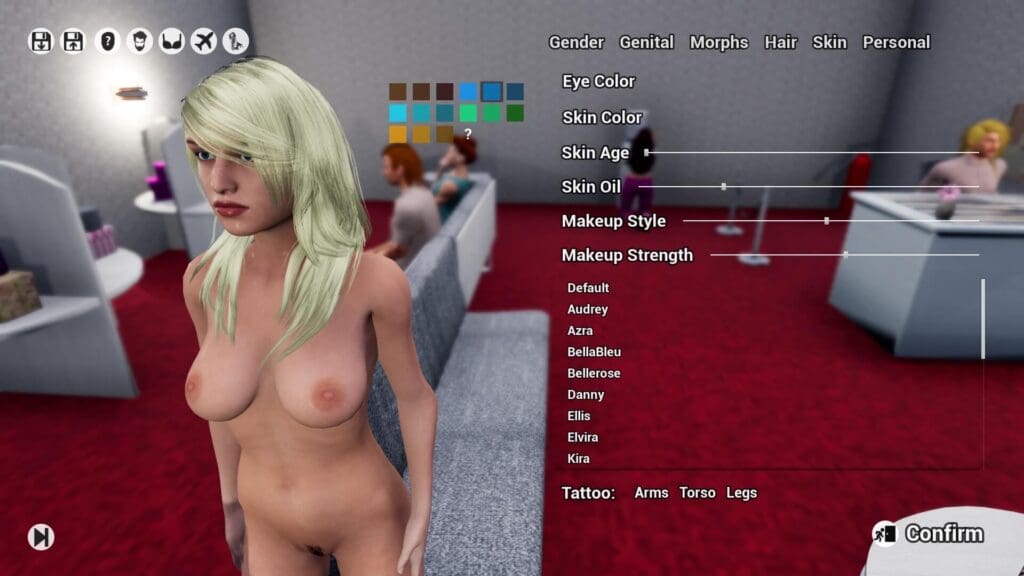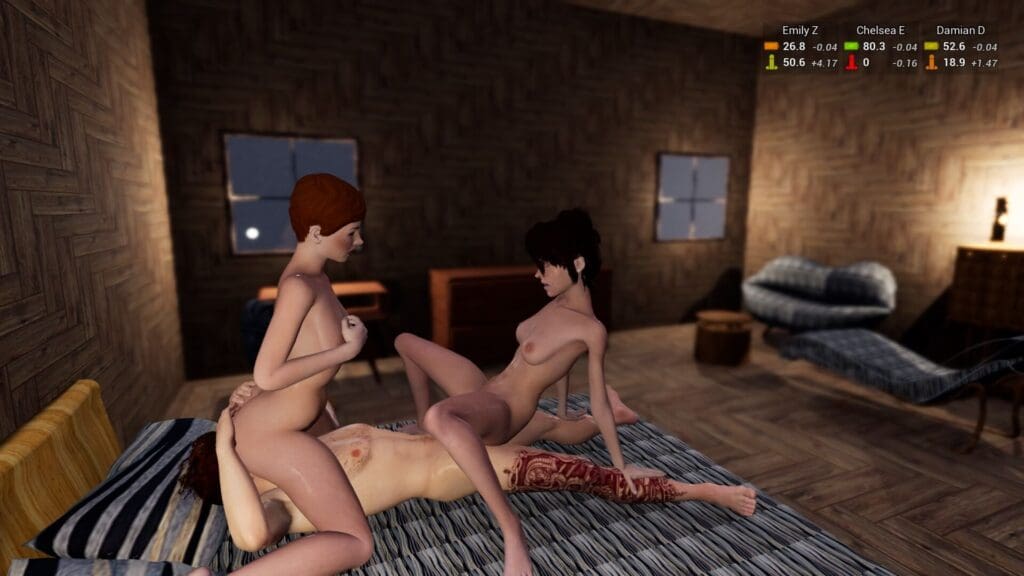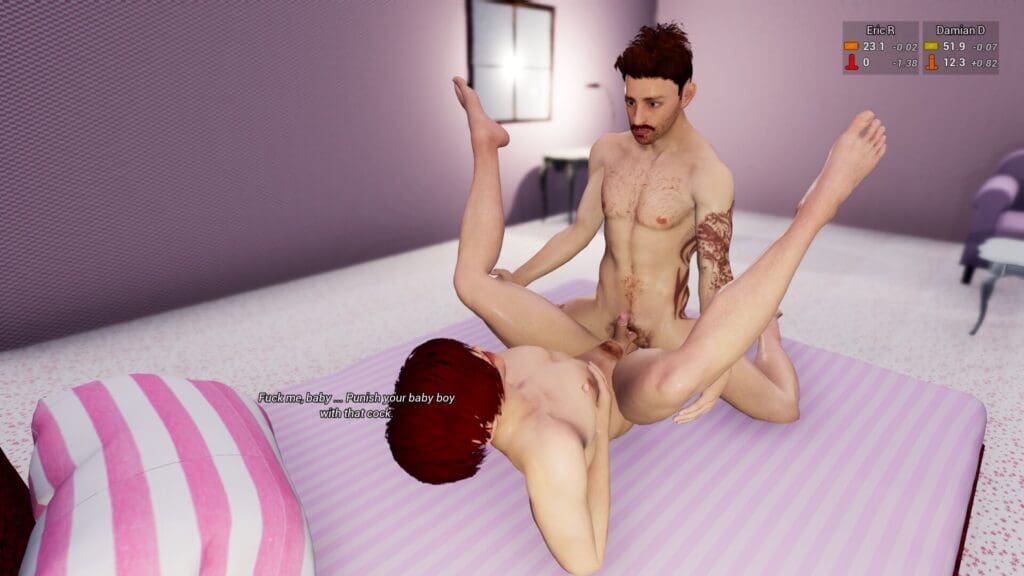 v4.14
– This update focuses on Trans/Futa content. Remember, you can change the percentage of trans NPCs generated by the game in Esc > Beauty Standards & Npc distribution
– New Threesome animations involving Trans (or female wearing strapon) characters to cover some of the combinations that are still missing:
+ Trans Female Female (TFF)
+ Trans Trans Trans (TTT)
+ Male Trans Female (MTF)
– New option in the Finish page of the Character Editor (works for both the player and NPCs you can edit from the Contacts menu) to allow trans/ female characters to use male moans instead and vice versa
– New 'Pitch Multiplier' option under the Moans options above to alter the moans to a higher or lower key for that specific character. Obviously this is potentially useful for all types of characters just for the sake of variety, but is especially useful for trans characters (for example, if you're playing a transwoman and want to emulate the effect of someone born male feminizing their voice via surgery, therapy or practice, you can either still use the female moans but lower the pitch, or choose to use the male moans instead but increase the pitch)
– Add trans option to a few scenes that currently only generate / ask you to select male characters (breeding party, a night with colleagues, etc)v4.10
– This update is dedicated to Se x Worker content
– At a brothel, any NPCs with the "Works here" text when you hover over them can now be hired (where you can let your current companion join in for a threesome as well), instead of still being treated as a potential John.
– Clicking on a "Works here" NPC at a brothel, you can now also select "Get introduced to a John" which will lead them to introduce you to a regular customer of theirs, initially for a threesome, but who will then become a regular for you as well.
– New "Check prostitution's legal status" you can take at any brothels, which is a way for the player to set whether such career can lead to arrests by cops in your current map. By default, it's legal and arrests are disabled.
– Aside from the risk of getting arrested by cops (based on your sneak stat), there's now also the risk of the Johns running away without paying you first (based on your fitness stat), the risks are much lower while getting Johns from brothels compared to getting them from the streets.
– Getting Johns from a brothel now involves having to give back a cut of your income back to the house, which balances out the reduced risk above.
– Running into a John who is your colleague at your office job can fast track you to become the office plaything
– Aside from running into colleagues, you now have a chance to run into anyone from your contacts as long as their perversion > 60, you can decide to turn them down or be professional. If they already have decent attraction to you, they're guaranteed to become a regular customer and have higher likelihood of eventually offering to become your sugar daddy (mama) / committed partner.
– When a returning John contacts you and you turn them down, you can then choose to permanently ignore and never see them again. There's also an option to do this for all your current Johns and retire from the se x industry and never be bothered by your existing Johns again (for example, if you're roleplaying someone who give up such career to start a family etc).
– New female pole dancing animation for the 'Strip' action in stripclubs
v4.8
– Children born from in-game pregnancies will now have their eventual race and appearance generated by mixing both their biological parents' races and appearances, making it sometimes appear obvious if some interracial cheating / NTR / sperm donor was involved
– Your female significant others can now give birth to twins and triplets too (whether biologically yours or nor), not exclusive to female player characters anymore
– Intercourse while using condoms now temporarily lowers 'prone to orgas m' and making climax harder to reach, which might actually be a good thing if you have very high 'prone to orgas m' (i.e. premature ejaculation) and trying to please someone hard to please. This also makes the choice between pills and condoms more meaningful.
– Chance of impregnation if the guy comes outside but then proceeds to pick a vaginal position unprotected with 'leftovers' still on his dick within a short time. To make sure never to accidentally trigger this, simply 'clean it up' after coming with a BJ (or anything non-vaginal really) until the orgas m meter reaches at least 15 before doing vaginal again
– Discovering you're pregnant while not in any committed relationship causes rapport loss with very conservative family members and colleagues (i.e. if their perversion is lower than 15). This will happen more if you use one of the optional maps set in religious countries, where NPCs' average perversion is low.
– Fix an issue where your children sometimes end up looking way older than 18 once they reach adulthood. They will now actually look like young adults at 18.
– Prevent the pregnancy notification to display ridiculous info like 'XYZ has been pregnant for 400 days' which is prone to happen if the Pregnancy Duration Multiplier is set very low.
– Fix the fatal error crash some people have been experiencing since the last update (i.e. the Old-Young released on 8 Aug)
(Just a reminder since part of this update improves on the appearances of children born from in-game pregnancies: you don't have to play your save for 18 in-game years to see them become full NPCs – there's an Esc > Settings option for "Child Growth Speed" to make time pass very quickly for them)
v4.7
This update gives some love to a kink who always seems to finish 'mid-table' in the Kinks of the Month results each month, i.e. despite being moderately popular, it has never won a KotM update and doesn't look likely to win in the foreseeable future. I've done this in the past for a few kinks (Watersports etc) and will continue to give some love to the unlucky perpetual losers in future non-KotM (i.e. first update of each month) updates when appropriate.
Even though this isn't an official KotM update decided by the poll results, Old-Young will still be excluded from September and October's KotM polls for fairness to the other kinks.
– New "Official Old-Young Module", disabled by default and can be enabled in Esc > Mod Manager
– New "likes_older" stat for player character and NPCs that ranges from -100 (prefers much younger lover) to 100 (prefers much older lover). This new stat has a big impact on their attraction to you whenever a new NPC is generated.
– New "Use an age-gap dating app" that will introduce you to people that fit in with your age gap preference. This also provides an immersive way to set your own "likes_older" stat without directly editing stats or trying to figure out the math.
– Commonly triggered scene for a younger player character that prefers older where a DILF / MILF (depending on your gender & sexual orientation) approaches you
– Commonly triggered scene for an older player character that prefers younger where you come across someone younger who checks you out and you have a choice to approach
– While hanging out with your friend / significant other, they might introduce you to their unusually attractive dad / mom / uncle / aunt / grandad / grandma (depending on how high your likes_older stat goes)
– While hanging out with your friend, they might introduce you to their +18 child, niece / nephew / grandson / granddaughter who checks you out (depending on how far in the negative territory your likes_older stat goes)
– While hanging out with a friend of the same gender and similar age at a nightclub / bar, you may get approached by a pair of older (wo)men. This, depending your own and your friend's likes_older, perversion, interpersonal stats and scene choices, may result in either direct or voyeur partipation in a threesome or foursome.
How To Install LifePlay
---
Extract
Play the game
LifePlay Free Download
---
Update Only: (requires v4.0 Stable or later)