Divine Dawn Free Download Latest Version
Divine Dawn Download Walkthrough + Inc Patch Mod Apk For PC Windows, Mac, Android – is a text-based RPG in which you step into the role of a would-be hero.
Developer: Cryswar – Patreon
Censored: No
Version: 0.23c
OS: Windows, Linux, Mac, Android
Language: English
Genre: Text-Based, Character Creation, Male Protagonist, Creampie, Oral Sex, Titfuck, Teasing, Adventure, Combat, Fantasy, Graphic Violence, Horror, Humor, Monster, Monster Girl, Religion, Romance, RPG, Turn-Based Combat, Female Domination, Naizuri
Overview
---
Divine Dawn is a text-based RPG in which you step into the role of a would-be hero, with dreams of greatness and no likelihood of achieving any of them in a peaceful world with no real genocidal threats. Then you nearly die several times in a row, discover traces of an ancient mystery and (possibly) impending doom, and go on a road trip with a colorful cast of comrades to save the world! Maybe. You've got a lot of fighting, therapy, adventure, and monster girls to deal with before we get to that point. Fortunately, you'll usually have a partner at your side to help you out in fights and offer witty(?) banter(?). But only you can decide if it's worth trading your humanity for the power you need – otherworldly energies offer much, but will change your body over time.​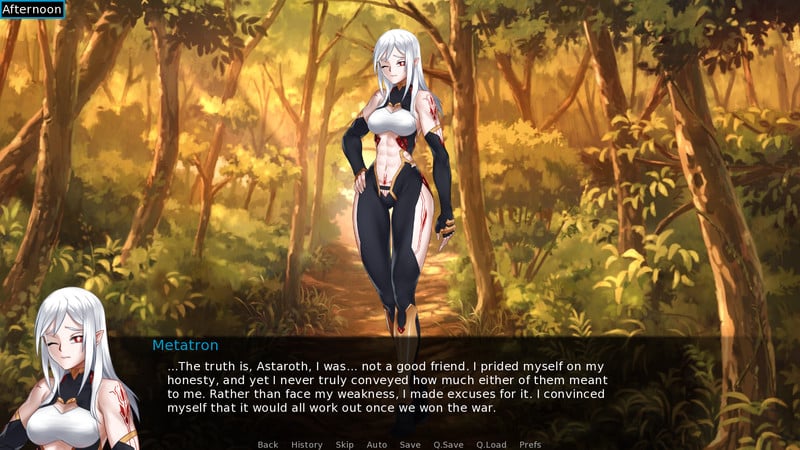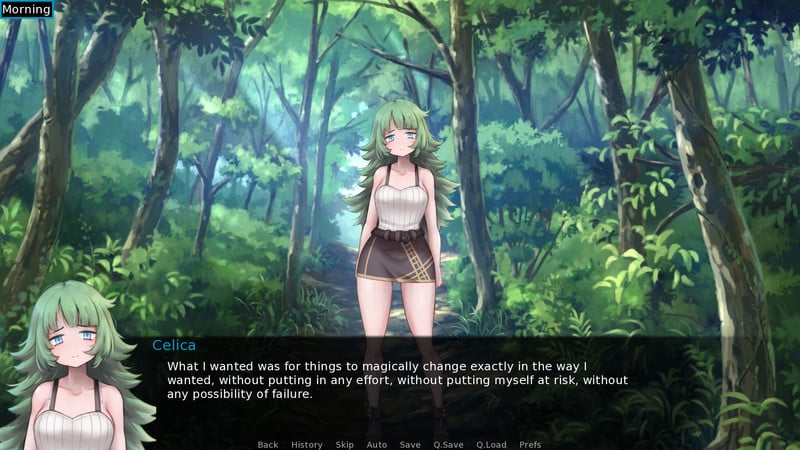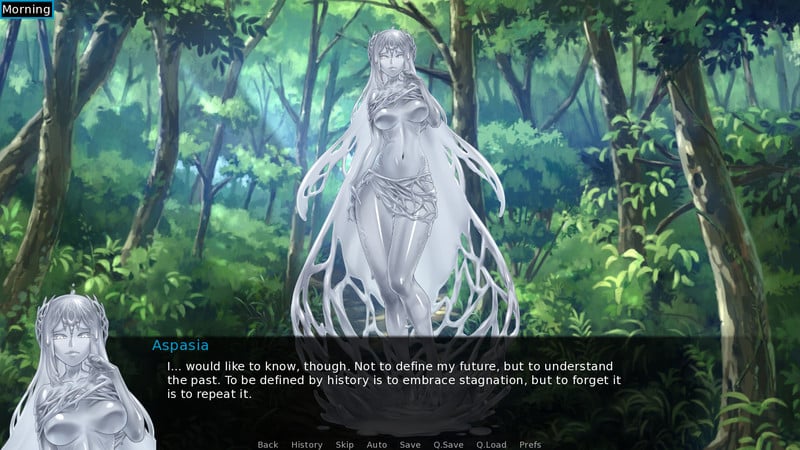 v0.22d
Major updates to the opening and weapons in particular
Changelog:
The pre-temple opening of the game has been completely redone. Pick between bespoke new premade choices or a custom character builder, meet a new character, and meet a more tolerable Sam. Female Sam only; male Sam has been completely removed.
The temple has gotten minor updates, making it possible to skip some text, taking out some lower-quality stuff, and adding a bit more.
Sarah and Ashley temple scenes now have their own CGs! Minor updates to the scenes as well.
The game now has a LOT more backgrounds; temple is unchanged but the forest and home scenes, camp, and Badon now have proper art.
Amnelis sprite courtesy of Coubalt. Knight-Commander Selendis art courtesy of jfc!
Amnelis theme and Sofra normal/battle themes all by Ubercrow! The temple boss also has a new theme, courtesy of The Mad Duck
4 entirely new weapons – Greataxe, Dual Daggers, Mana Blade, Longbow, each with unique playstyles. Almost every old weapon has been heavily reworked as well! Earth magic got a major revamp too. About 300 new abilities and ~100-150 reworked ones in total.
A new set of no-requirement channels, so non-mages have good access to buffs, and new Reaction system which lets you reflexively block, counterattack, or evade attacks for a certain duration or use count.
Significant improvements to much of the progress menu UI, showing much more info about abilities
Around 15-20 ish traits, some for existing weapons, some for new/magic
New Metatron 12-affection scene, covering the aftermath of her first lewd. More to come~
v0.21e
The biggest update yet, with about four hours of content as the result of two months of work!
Changelog:
Metatron's existing romance and Celica's new 10-affection romance scene now lead to lewds, each with a bespoke CG with multiple variants! Celica's CG was drawn by Nor, while Metatron's was provided by SunsetSkyline.
Deliver Ina to the knight camp, meeting several new characters, running into your first main plot decision, and unlocking…
A new combat area, the Deepwoods Verge. Expect to target down specific enemies, deal with cancerous bullshit, and fight…
Siofra, an extremely hot spirit mommy drawn by Coubalt, a new character debuting as a boss!
Two entirely new weapons, the Shortbow and the Greatsword, each with 6-10 abilities. Shortbows excel at ability rotations to keep debuffs and statuses on enemies, and can synergize with magic to become a magic archer, while Greatswords deal ruinous damage and can cripple enemies.
Most weapons now have various stat bonuses and penalties, including several new magic or hybrid melee/magic weapons.
Ashley gained 8, 10, and 12 trust scenes, which start her along the path of her own custom martial art and reveal quite a bit about our beloved gremlin! Soon you'll be able to follow her down the same path~
Maya got adorable new art, courtesy of jfc, with a boatload of new expressions!
Progress menu heavily revamped, with far more information and less reliance on shitty tooltips, as well as aesthetic improvements.
Tons of new icons for statuses and stats, especially visible in the progress menu and rightclick stats menu, courtesy of Clockwork Raven!
A new Charisma stat, which buffs your ally's offensive and defensive abilities. It can benefit multiple allies, which may become relevant soon…
Deepwoods Verge monsters are a mix of custom stuff from Garrisen or acquired from Aekashics.
Deepwoods Verge background art courtesy of Chrisowl!
The main menu now cycles between a couple cool new backgrounds, and some of the commissioned music. Also messed with the layout slightly so it feels a little more… idk, professional.
A bunch of new music, particularly the Deepwoods and Sam battle/camp themes by the talented @Ubercrow, and a few from various free-use repositories.
Various fixes to channeled abilities; they now update targets each turn, including newly-summoned enemies or recently-dying foes, rather than needing to be re-toggled. Buff boosts and channel cost upgrades SHOULD be working properly as well, but doublecheck your pre-mastery channels.
How To Install Divine Dawn
---
Extract
Play the game
Divine Dawn Free Download
---