Divimera Free Download Latest Version
Divimera Download Walkthrough + Inc Patch Mod Apk For PC Windows, Mac, Android – Will you uncover the island's secrets before they consume you?
Developer: Redikal Patreon
Censored: No
Version: R8
OS: Windows, Linux, Mac, Android
Language: English
Genre: 2DCG, Animated, Male protagonist, Femdom, Harem, Vanilla, Romance, Fantasy, Corruption, Big tits, Big ass, Creampie, Vaginal sex, Virgin, Groping, Teasing, Horror
Overview
---
When a sudden storm wrecks your ship, the only survivors are you, your sister and her nanny. The three of you are washed ashore on an uncharted island, but only two of you are rescued, taken in by an undocumented British colony.
Now your sister is missing… They're telling you she is dead, that no one could survive outside the village, but you know better. You'll find her, whatever it takes.
Soon, it becomes clear that the island holds many dark secrets which could threaten your life and sanity. Just where did these people come from? Why does no one go into the woods at night? What are these strange looks everyone gives you? And what has happened to your sister? Your quest is complicated by the island's many, beautiful women who all seem to have a special interest in you… and secret agendas of their own…
Will you uncover the island's secrets before they consume you? Or will you give in to temptation and depravity?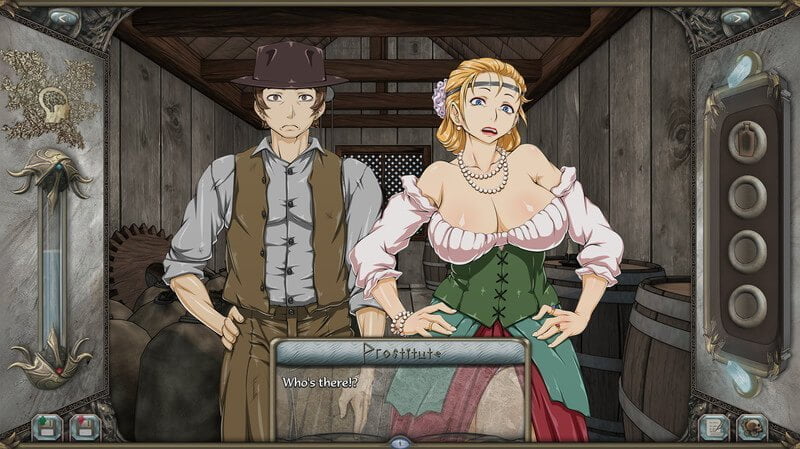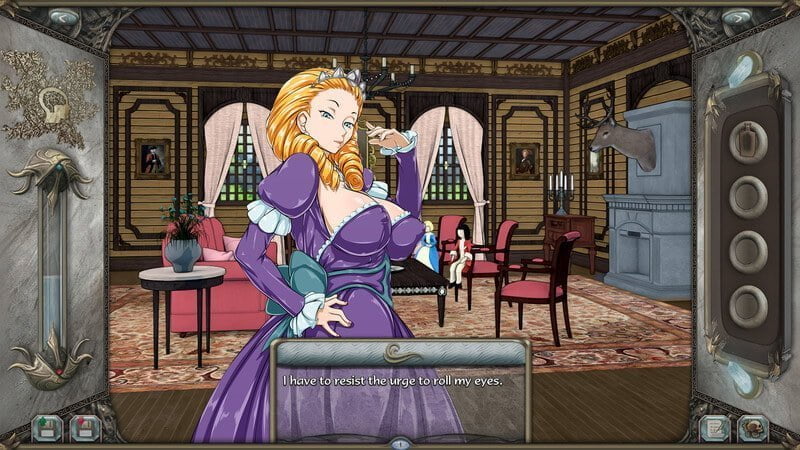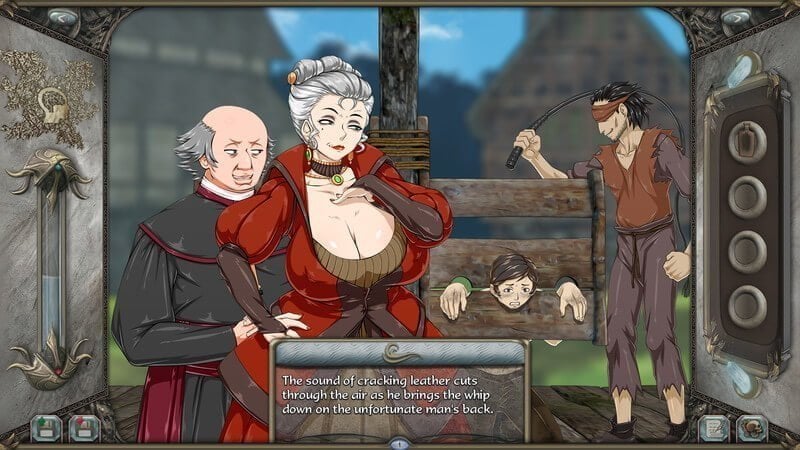 R8
– Continuation of the story.
– 2 new H-scenes (Hale with two slightly different scenes depending on your choices, and Arabelle).
– Added virgin/purity path (minor scenes specific to it).
– Reworked the saloon dinner scene at the end of R7 to include more lore regarding the island.
– Better optimization and added launcher (from R7.5). Make sure to choose the right level of preloading for your device to avoid issues.
– Various polishes and bug fixes.
– Translation in Spanish and Russian is updated and complete for this version.
R7.1
/!\ Importantregarding your saves /!\
The folder for Divimera's saves has changed, it was named Test6 and it's now named Divimera as you would expect. I decided to do it now because eventually I have to fix this error, and the sooner I do it the better…
To continue from your previous saves you must copy the entirety of what's inside the Test6 folder over to the new Divimera folder. (If the folder doesn't exist yet, you must launch R7 once for it to create that new Divimera saves folder).
On PC, you can find the save game folders at this path:
C:\Users\username\AppData\Roaming\RenPy
~/Library/RenPy
~/.renpy/
Details:
– Continuation of the story.
– 2 new H-scenes (Molly and Charlotte).
– Gambling game.
– Various polishes and bug fixes.
– Optimization for android, to try having fewer crashes on mid-end devices, there are still more options available if this doesn't do it, so let's see how it goes.
– Translation in Spanish and Russian is updated and complete for this version.
R6.1
– Continuation of the story.
– 3 new h-scenes (Hale and Lily).
– Switched/upscaled all assets to 1080p, and also improved the texture work and image quality in general.
– (If the savefile image look messed up, it's caused by the increase of resolution, this will fix itself as you start saving using R6, just a cosmetic issue).
– Translation in Spanish and Russian is updated and complete for this version.
– The navigation arrows now last longer.
– Made the hale route easier to obtain in terms of condition requirement (was too difficult and not intended to be that way).
– Various small fixes and improvements to previous parts.
The version is a bit shorter than I expected, it's kind of sad when this has been the most complicated version to make so far (creating the whole island outside look and logic is one of the reasons and some of the sex scenes are getting more complex), it didn't translate very well into the game length. The next version will be focused on the village, so should be less complex to create. In any case, hope you like it and it has some good moments!
R5.1
– continuation of the story.
– 1 teasing scene with hale.
– 1 teasing scene with charlotte.
– 1 new h-scene.
– added one new location: the gardener shed (this location is located beyond the metallic gate of the garden and is now active starting from Day 1, we added some minor events triggerable in the previous days for this new location).
– disabling voyeur scenes in the options now fully replace the first prostitute peeking event with a new one that makes you entirely avoid the scene.
– translation in Russian and Spanish updated and complete for this version.
– various small fixes and improvements to some existing art backgrounds.
– added cheat engine to the main menu by the use of crystals.
R4.5
– added Russian language (machine translation).
– added Spanish language (machine translation).
– added time of the day indicator when the time changes.
– added replay hentai scene screen.
– added new options to toggle hair (armpit/pubis) on all female characters.
– added three bad endings to the current storyline (you can now attempt to free Isaac despite the witch warning).
– added an illustration for Molly when she is idle inside the watermill.
– added new expressions to certain characters and interactions.
– expanded support for android (dedicated tutorial screen and bigger button hitbox).
– others various fixes and polishes to the existing script.
R4
Continuation of the story.
2 new h-scenes.
Fix for the saving problem concerning certain users.
And a load of small improvements to the previous stuff (new expressions, new audio etc.).
R3
Continuation of the story.
Spellings correction on the previous version.
Reworked music and optimization of the backgrounds.
/!\ Warning /!\ If when you load a previous save, you get a sort of empty screen, this is normal, just move to another location (by clicking on where you should be one of the navigation hotspots (the grey smoke) or using the map) and it will reload correctly the files. This is caused by some optimization made, I reworked the whole organisation for the backgrounds in the game and for future versions.
R2
Major update: continuation of the game up until halfway into Day 2.
Added android support.
Reworked slightly the later part of the intro (now you can take a look outside from one of the window of the corridor giving to the MC's room and there is some events/scenes that can be seen from there).
Improved performance across the board
R1
Initial release
How To Install Divimera
---
Extract
Play the game