Degrees of Lewdity Free Download Latest Version
Degrees of Lewdity Download Walkthrough + Inc Patch Mod Apk For PC Windows, Mac, Android – You must make some quick cash to keep living at the orphanage or bad things happen.
Developer: Vrelnir SubscribeStar
Censored: No
Version: 0.3.13.3
OS: Windows, Linux, Android, Mac
Language: English
Genre: 2DCG, Text based, Male protagonist, Female protagonist, Character creation, Bestiality, Vaginal sex, Anal sex, Oral sex, Rape, Prostitution, School setting, Animated, Tentacles, Combat, Futa/trans, Gay, Internal view, Interracial, Lesbian, Mobile game, Simulator, Transformation, Turn based combat, Vore, Sandbox, Monster girl, Titfuck, Creampie
Overview
---
You play as a young student living at an orphanage. You must make some quick cash to keep living at the orphanage or bad things happen. *Most fetishes are optional.​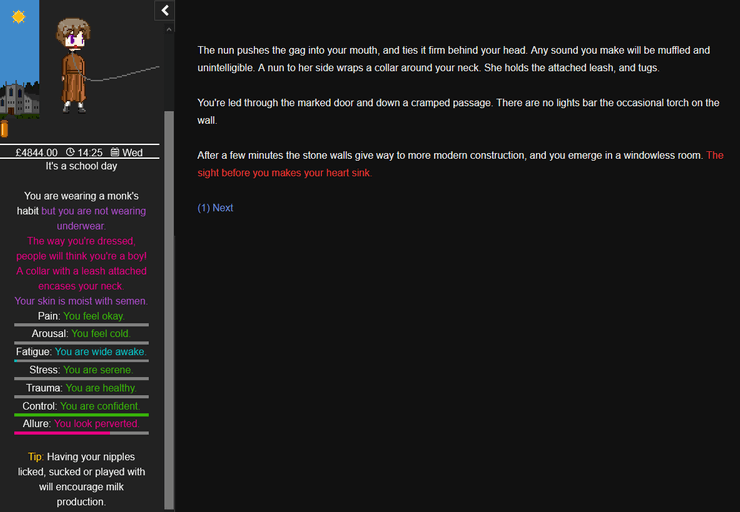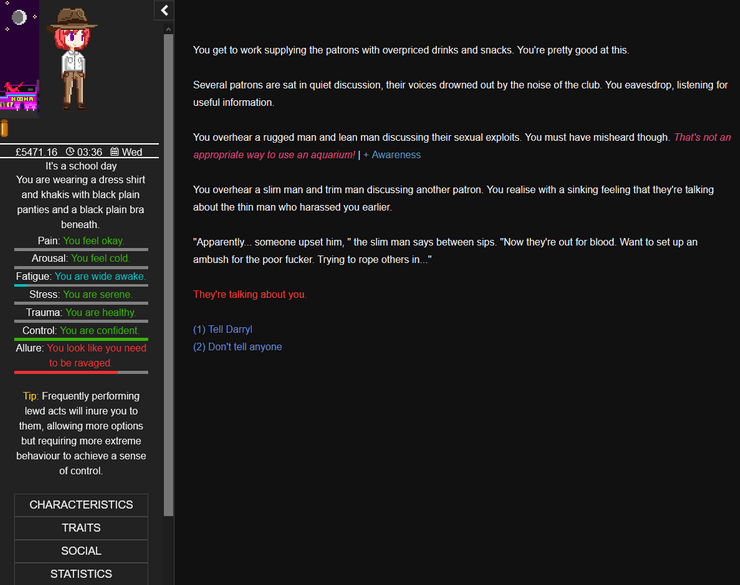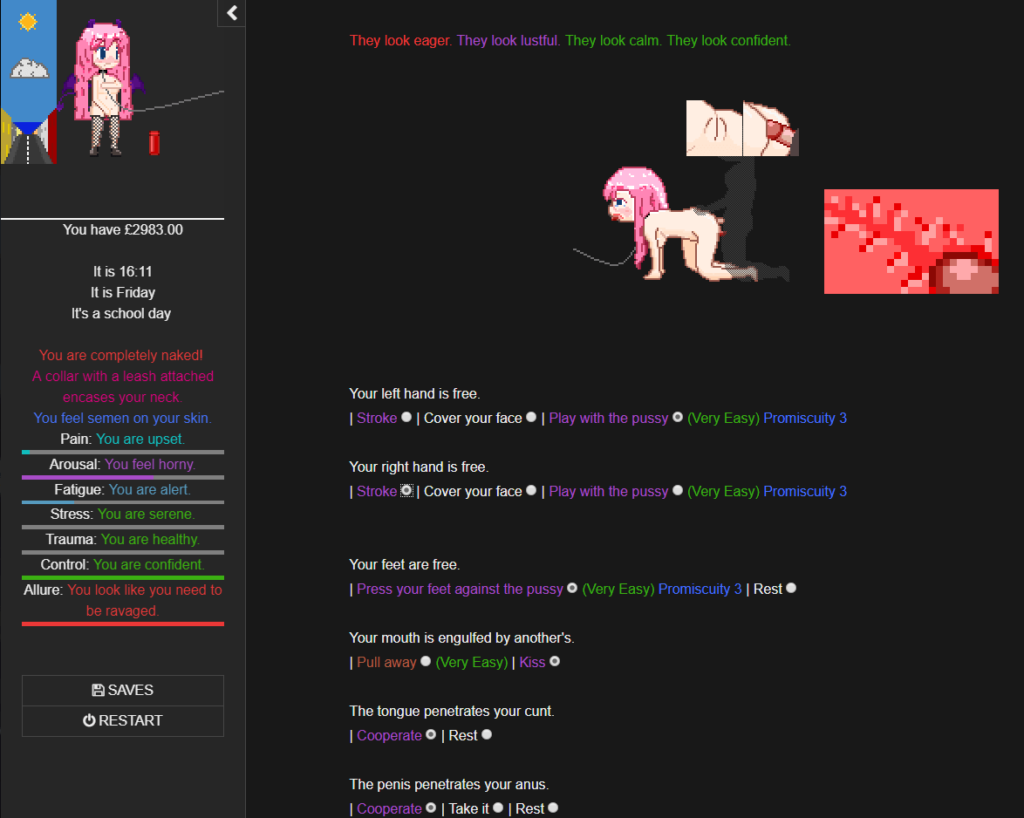 0.3.13.3
Added icons for the skeleton outfit and mask. Thanks to anon.
Added Robin and Whitney reaction lines for the skeleton costume. Thanks to hwp.
Thanks to note leven for fixing bad links.
Thanks to Jimmy for an ironman fix.
Thanks to Crimson Tide and anon for the following fixes:
A new event at the compound will no longer trigger before the PC's actually discovered it.
Completing the new compound event drastically increases security.
Fixed an error caused by the ear slime at Alex's farm.
Fixed an error at the underground farm.
Fixed an error in the office.
Pronoun fixes.
v0.3.10.2
Added an abduction scenario involving Kylar.
Added the Stockholm Syndrome: Kylar, Hypnotic Suggestion, and Hypnotic Yearning traits.
Kylar can now give the PC a gift at high love.
Added some other events involving Kylar.
Demon PCs can now climb through windows at night on Domus Street in search of "prey".
Added Kylar's manor to Danube Street. Needs to be discovered before it can be visited.
Added cheating options and suspicion mechanics to Blackjack. You can mark cards, and attempt to peek as cards are dealt. Higher skulduggery makes cheating easier. Being caught can be dangerous. Thanks to definitely_not_a_cop.
Added a Cheating Guide beneath the Blackjack Guide, explaining mechanics in more detail. Thanks to definitely_not_a_cop.
Added a couple of Whitney events to the town's streets.
Added a scene with Morgan to the sewers. Written by Kurjutta, coded by Crimson Tide.
Added a scene with Whitney to the park. Written by Handsomepaesant, coded by Crimson Tide.
Angry NPCs can now urinate on the PC after orgasming during non-consensual encounters, if watersports is enabled.
Added "Urinated on" to statistics.
Added some text to the pharmacy nurse. Thanks to hwp.
You can now ask NPCs to be rougher with you. Requires the "Guilty Masochist" or higher trait for consensual encounters, and the "Hardened Masochist" or higher trait for non-consensual encounters.
The "Hypnotic Yearning" trait can make the PC beg for rougher treatment instead of screaming. The effect can be resisted by willpower. Being hypnotised multiple times will transform the effect into something stronger.
Some NPCs are now hypnotists, and can hypnotise the PC during combat, inflicting the "Hypnotic Yearning" trait, increasing masochism, or making the PC orgasm at once. Doctor Harper is always a hypnotist, and generic NPCs have a 1% chance of generating as such. Iridescent, incandescent, translucent, blooming, wired, and convulsing tentacles can also hypnotise the PC, and increase sadism instead of masochism.
Other headwear can now be worn alongside a hoodie if the hood is down. Thanks to braymann.
You can now hitchhike outside town while in a state of partial undress, such as when wearing exposed underwear or plant clothes, but it's more dangerous.
Added a rare event to the school hallways. It's more dangerous than most.
Added an exposure event to the school hallways.
Added the "Pose for camera" hand action to encounters with audiences, including audience reactions.
Adjusted the monster hoodie colour, gave it the option of custom colours, and renamed the base colour.
Adds a confirmation menu when loading a save into an older version. In effect from this version onwards. Reloading the current session into an older version also gives a passage confirming the action. Thanks to Jimmy.
You can now use the reflective surface of water as a mirror at the wolf cave, lake shore, and Remy's farm. Thanks to Jimmy.
Added small events to the landfill, moor, sea, and wolf cave.
Added a Theme switcher control to the "Options" overlay, letting you choose between "Dark", "Nord", "Zenburn", "Monokai" and "System default". "System default" sets a theme depending on system colour preference. Thanks to shikiyoku and February.
Added some flavour text to Sam at the cafe.
Added padding to the overlay menu, and adjusted the stats border. Thanks to February.
Added "hood up/down" and "tuck/untuck shirt" buttons to the clothing shop. Thanks to hwp.
Added art for 21 bodywriting lines as they appear on the PC, alongside code improvements. Thanks to KiraaCorsac.
Added the demon-cat tail and demon-cow horns chimera parts. Coded by Jimmy, with sprites and design by Sir OniHeimer, Eleisea Eisenwald, and Aussie.
Added colour controls to the demon transformation part window. Thanks to Jimmy.
Performance improvements.
Thanks to Crimson Tide for more appropriate NPC ejaculations after winning a fight.
Thanks to Crimson Tide, Jimmy, shikiyoku, February, Rukarin, hwp, and note leven for code improvements.
Added the "Longing", "Pagan Rite", and "The Value of Pain" feats.
Thanks to lifeAnime for the following additions and improvements:
Added toggle or cat transformation heterochromia to the mirror options.
The currently selected hairstyle is now highlighted in yellow when selecting styles at the mirror.
Added hotkeys to the show/re-equip clothes button at clothing shops.
Improved the custom colour shop UI, and added import/export buttons for the colour's code.
Adjusted the random colour option at the clothing shop, making it pick more usable colours.
v0.3.9.2
Dogs will no longer act like humans during an encounter in the pound. Thanks to braymann.
Fixed an issue caused by penetration/evelopment during certain encounters. Thanks to Kegdo.
Fixed a compatibility issue with fame. Thanks to Jimmy.
Fixed Joiplay save issues. Thanks to Jimmy.
Fixed an issue with socks not rendering properly in combat. Thanks to Jimmy.
v0.3.7.2
Charlie will now offer work to accomplished dancers. They give a different job if they dislike the PC.
Added a couple of location-dependant dance events.
Added a quest at the temple.
Added setting randomisation to the Quick Start/Quick Edit tab in settings, extending the preset system. Thanks to Lollipop Scythe.
Added hair randomisation and saved sets. Saved sets can be added to new and existing outfit sets, allowing the player to change their hairstyle with each outfit. Thanks to Lollipop Scythe.
Nicknames now take modelling fame into account. Thanks to oyea.
Added a combat menu adjacent to the next button during combat. Thanks to Jimmy.
Tired PCs will now half-close their eyes. Thanks to lifeAnime.
Added lime green and light grey eye colour/contacts. Thanks to lifeAnime.
The nurse at the pharmacy now sells custom contact lenses. Thanks to lifeAnime.
Overhauled the pill code and bedroom pill UI. Thanks to lifeAnime.
Added an antique.
Added the search bar and "All" shop category. Thanks to Lollipop Scythe.
Clothes can now be displaced in swarm, tentacle and struggle encounters. Thanks to Quin2k.
Clarified the unlock requirements for feat boosts. Thanks to Quin2k.
Maxing arousal while dancing will now cause the PC to orgasm, with outcomes depending on the PC's skill, shoes, lewdity, and traits. Can be dangerous in some locations. Thanks to Nicky Lassandri.
The PC's limbs should now reset more intelligently when an NPC is defeated. Thanks to Rukarin.
Added seasonal beer choice to the cafe, and a beer icon. Thanks to Luna.
Added "tending yield factor" to settings, which controls the amount of produce grown with the tending skill. Thanks to shun.
Anal fingering of the PC by NPCs now has more involved mechanics, and can be prevented. Thanks to Combat_wombat.
Leighton can now react to the PC's arousal during pussy inspection. Thanks to TreeFrogSoup.
Added the curly pigtails and sailor buns side hairstyles. Thanks to Mira.
The curtain fringe style is now represented on encounter sprites. Thanks to Myoran.
Added a stat counter for pills taken. Thanks to khovel.
Added the undershirt, baseball shirt, baseball shorts, and baseball cap to the clothing shop. Art courtesy of namelessone.
Generic NPCs can now be virgins. Thanks to hwp.
Adjusted the art for the belly dancer's bottoms, belly dancer's top, board shorts, booty jorts, breeches, catsuit bottoms, chapette breeches, chinos, long cut skirt, short cut skirt, cycle shorts, diving bottoms, gothic trousers, jorts, keyhole skirt, long skirt, maid skirt, miniskirt, moon pajama bottoms, star pajama bottoms, retro trousers, Christmas skirt, Christmas trousers, chastity belt, and gold chastity belt, adding damage states where missing and fixing clipping issues, with more significant changes to the belly dancer set. Art courtesy of KG.
Added the belly dancer's veil to the clothing shop. Art courtesy of KG.
The Characteristics overlay now describes how large your breasts appear after taking clothing into account. Thanks to hwp.
Adjusted and reimplemented the Cum dump/Cumoisseur scene at Remy's estate.
Added winter variants for the promenade, alley, industrial alley, and night monster lair location art. Art courtesy of Swaggy Bookshelf.
Added a cheat to the cheats menu to reset an NPC's virginity. Thanks to hwp.
Added the "Life of the Party," "Belle of the Ball," and "Breaking the Stone" feats.
Thanks to braymann for preparing code for the inclusion of cows and bulls in the future.
Thanks to hwp and Lollipop Scythe for performance improvements.
Thanks to lifeAnime for a debug tool.
Thanks to Jimmy, note leven, Lollipop Scythe, khovel, and Rukarin for code improvements.
Improved tending code, and the code responsible for NPCs interacting with your clothes during encounters, among other code improvements. Thanks to hwp.
0.2.24.0
Added an option to reduce stress, trauma and obedience at night while at Remy's farm. Written by Harcher and coded by bsmith.
You can now wrap a towel around Wren after Blackjack. Thanks to Lollipop Scythe.
Added a bench proper, which appears during a scene with Whitney in the park. Art courtesy of Kodi.
Added new art for the hoodie chest piece and sleeves. Courtesy of KG.
Added damage states for the cheerler skirt. Art courtesy of KG.
Added the kilt and tam o' shanter to the clothing shop. Art courtesy of KG.
Pom poms are now a hand garment, separate from the cheerleading top. Thanks to KG.
Added the cat hat to the clothing shot. Art courtesy of Borb.
Added the holy stole to the forest shop, unlocked by reaching maxiumum grace. Art courtesy of PurityGuy.
Added icons for puffer jackets, camo shirts, star pyjama shirts and moon pyjama shirts. Art courtey of Borb.
Added location art for the residential alleyways. Art courtesy of Mewsic Box.
Added location art for the riding school. Art courtesy of Korky.
Balance Changes
The fumes from the burning field at the Remy estate will now drug the PC.
Eden's clothes can now only be repaired, and their supplies taken stock of, once per day.
You can now ask Eden for help searching the forest a limited number of times per day based on love.
Bug Fixes
The "Black Wolf the Alpha" feat is now correctly named.
Ignoring a boat at out sea will no longer scare away any squid attached to you.
Hovering over an item at the clothing shop in Chrome will no longer make coloured text flicker. Thanks to Sommar.
The crop top's name will no longer be capitalized all the time. Thanks to braymann.
Revealing small breasts when dancing will now have the proper exhibitionism requirement. Thanks to braymann.
Being sold to the Underground Brothel will no longer make you unafraid of Bailey again. Thanks to braymann.
Wren will no longer lie about sitting on your lap when playing Blackjack.
Fixed a bug that caused promiscuous options to trigger twice when playing Blackjack.
Flirting when Wren straddles the PC will now impact text.
Added new art for the flaps fringe style. Thanks to Borb.
How To Install Degrees of Lewdity
---
Extract
Play the game
Degrees of Lewdity Free Download
---